730218 - Letter to Gurudasa written from Sydney
From Vanisource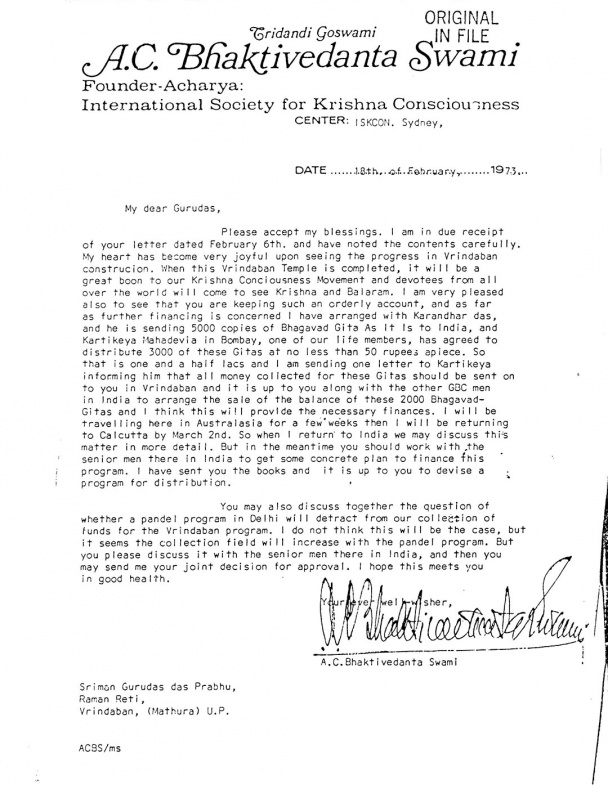 Tridandi Goswami
A.C. Bhaktivedanta Swami
Founder-Acharya:
International Society for Krishna Consciousness
CENTER: ISKCON Sydney,

DATE ......18th..of..February,..........1973....


My dear Gurudas,
Please accept my blessings. I am in due receipt of your letter dated February 6th. and have noted the contents carefully. My heart has become very joyful upon seeing the progress in Vrindaban construction. When this Vrindaban Temple is completed, it will be a great boon to our Krishna Consciousness Movement and devotees from all over the world will come to see Krishna and Balaram. I am very pleased also to see that you are keeping such an orderly account, and as far as further financing is concerned I have arranged with Karandhar das, and he is sending 5000 copies of Bhagavad Gita As It Is to India, and Kartikeya Mahadevia in Bombay, one of our life members, has agreed to distribute 3000 of these Gitas at no less than 50 rupees a piece. So that is one and a half lacs and I am sending one letter to Kartikeya informing him that all money collected for these Gitas should be sent on to you in Vrindaban and it is up to you along with the other GBC men in India to arrange the sale of the balance of these 2000 Bhagavad-Gitas and I think this will provide the necessary finances. I will be travelling here in Australasia for a few weeks then I will be returning to Calcutta by March 2nd. So when I return to India we may discuss this matter in more detail. But in the meantime you should work with the senior men there in India to get some concrete plan to finance this program. I have sent you the books and it is up to you to devise a program for distribution.
You may also discuss together the question of whether a pandel program in Delhi will detract from our collection of funds for the Vrindaban program. I do not think this will be the case, but it seems the collection field will increase with the pandel program. But you please discuss it with the senior men there in India, and then you may send me your joint decision for approval. I hope this meets you in good health.

Your ever well-wisher,



A.C. Bhaktivedanta Swami

Sriman Gurudas das Prabhu
Raman Reti,
Vrindaban, (Mathura) U.P.

ACBS/ms