730315 - Letter to Karandhara written from Calcutta
From Vanisource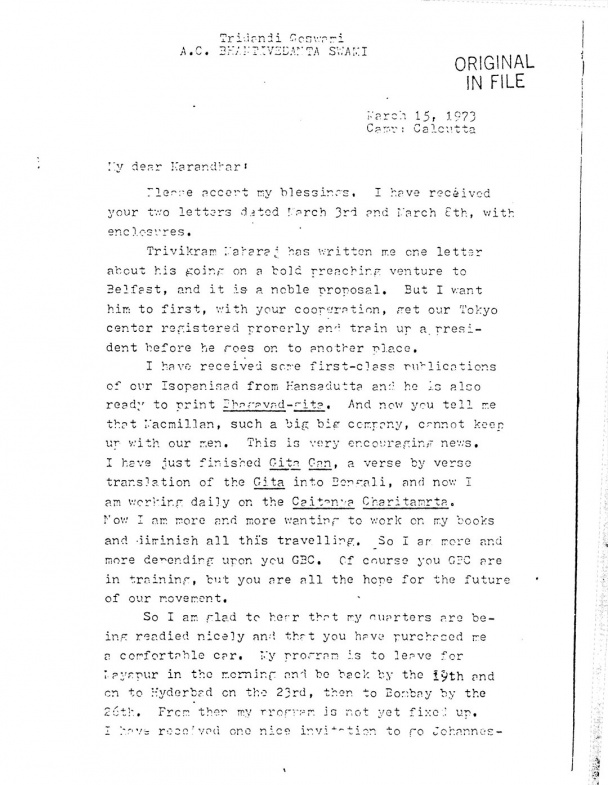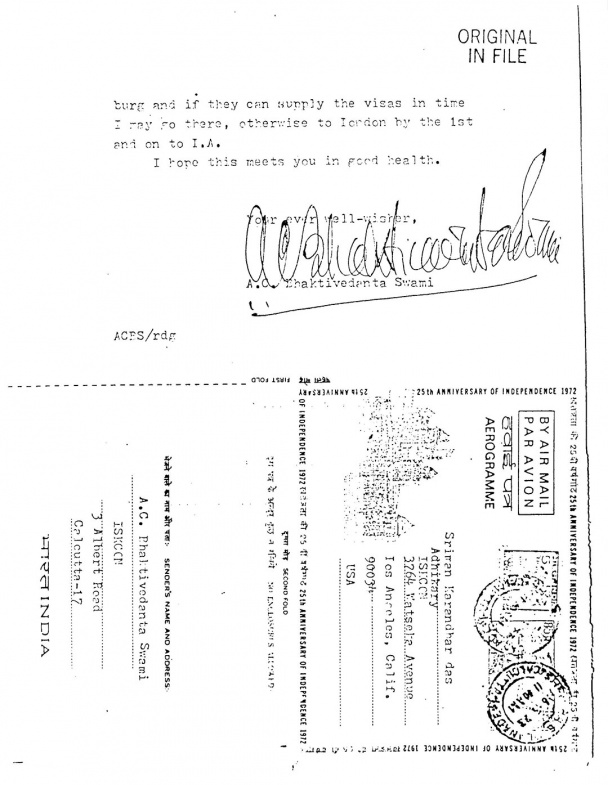 Tridandi Goswami
A.C. BHAKTIVEDANTA SWAMI


March 15, 1973
Camp:   Calcutta


My dear Karandhar:
Please accept my blessings. I have received your two letters dated March 3rd and March 8th, with enclosures.
Trivikram Maharaj has written me one letter about his going on a bold preaching venture to Belfast, and it is a noble proposal. But I want him to first, with your cooperation, get our Tokyo center registered properly and train up a president before he goes on to another place.
I have received some first-class publications of our Isopanisad from Hansadutta and he is also ready to print Bhagavad-gita. And now you tell me that Macmillan, such a big big company, cannot keep up with our men. This is very encouraging news. I have just finished Gita Gan, a verse by verse translation of the Gita into Bengali, and now I am working daily on the Caitanya Charitamrta.
Now I am more and more wanting to work on my books and diminish all this travelling. So I am more and more depending upon you GBC. Of course you GBC are in training, but you are all the hope for the future of our movement.
So I am glad to hear that my quarters are being readied nicely and that you have purchased me a comfortable car. My program is to leave for Mayapur in the morning and be back by the 19th and on to Hyderabad on the 23rd, then to Bombay by the 26th. From then my program is not yet fixed up. I have received one nice invitation to go Johannesburg and if they can supply the visas in time I may go there, otherwise to London by the 1st and on to L.A.
I hope this meets you in good health.

Your ever well-wisher,



A.C. Bhaktivedanta Swami


ACBS/rdg

Sriman Korendhar das Adhikary
ISKCON
3764 Watseka Avenue
Los Angeles, Calif.
USA

A.C. Bhaktivedanta Swami
ISKCON
3 Albert Road
Calcutta - 17