730403 - Letter to Giriraja written from Zurich
From Vanisource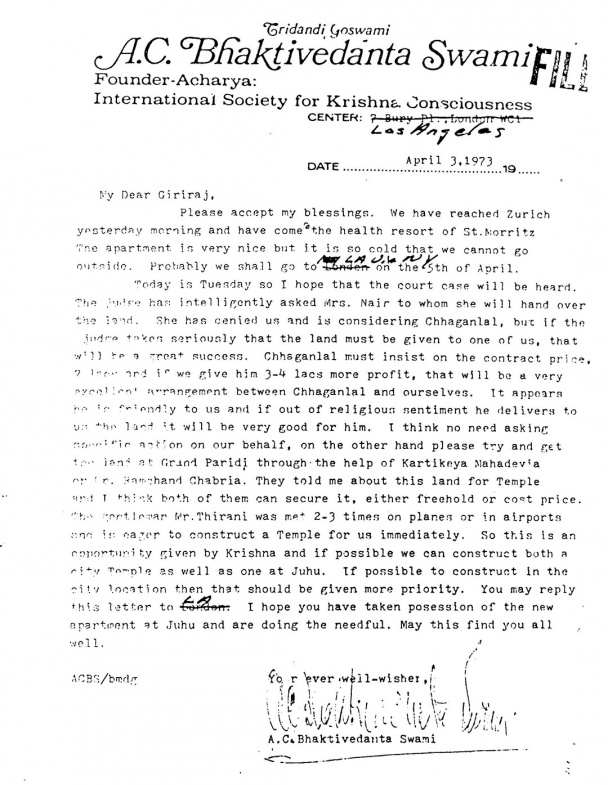 Tridandi Goswami
A.C. Bhaktivedanta Swami
Founder-Acharya:
International Society for Krishna Consciousness
CENTER: Los Angeles [handwritten]

DATE ..............April..3,1973..19......

My Dear Giriraj,
Please accept my blessings. We have reached Zurich yesterday morning and have come to the health resort of St. Morritz. The apartment is very nice but it is so cold that we cannot go outside. Probably we shall go to L.A. via N.Y. [handwritten] on the 5th of April.
Today is Tuesday so I hope that the court case will be heard. The judge has intelligently asked Mrs. Nair to whom she will hand over the land. She has denied us and is considering Chhaganlal, but if the judge takes seriously that the land must be given to one of us, that will be a great success. Chhaganlal must insist on the contract price, 7 lacs and if we give him 3-4 lacs more profit, that will be a very excellent arrangement between Chhaganlal and ourselves. It appears he is friendly to us and if out of religious sentiment he delivers to us the land it will be very good for him. I think no need asking specific action on our behalf, on the other hand please try and get the land at Grand Paridi through the help of Karatikeya Mahadevia or Mr. Ramchand Chabria. They told me about this land for Temple and I think both of them can secure it, either freehold or cost price. The gentleman Mr. Thirani was met 2-3 times on planes or in airports and is eager to construct a temple for us immediately. So this is an opportunity given by Krishna and if possible we can construct both a city Temple as well as one at Juhu. If possible to construct in the city location then that should be given more priority. You may reply this letter to L.A. [handwritten] I hope you have taken possession of the new apartment at Juhu and are doing the needful. May this find you all well.

Your ever well-wisher,



A.C. Bhaktivedanta Swami
ACBS/bmdg