730511 - Letter to Gurudasa written from Los Angeles
From Vanisource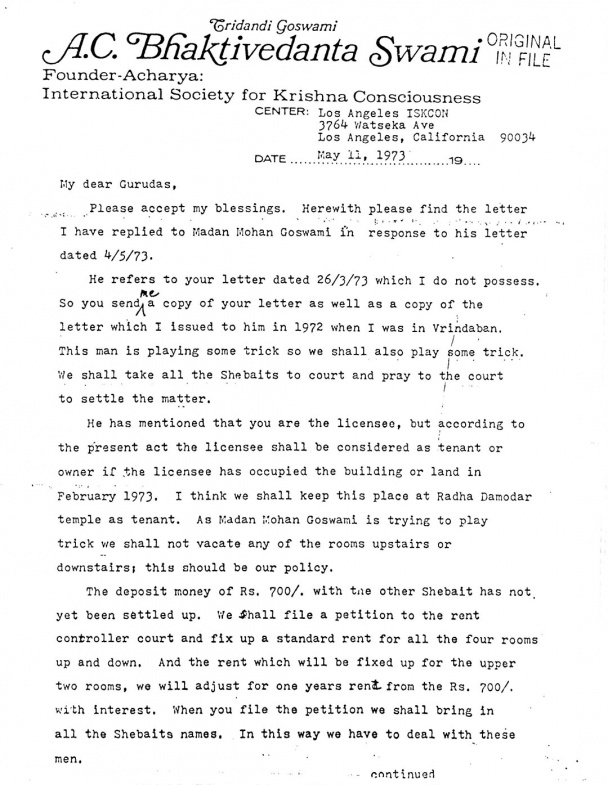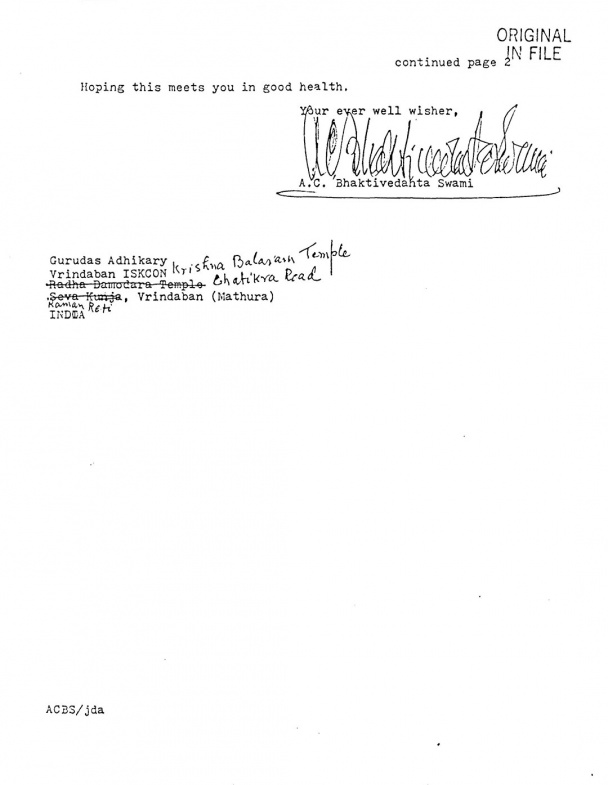 Tridandi Goswami
A.C. Bhaktivedanta Swami
Founder-Acharya:
International Society for Krishna Consciousness
CENTER:   Los Angeles ISKCON
               3764 Watseka Ave
               Los Angeles, California   90034
DATE ......May..11,...1973

My dear Gurudas,
Please accept my blessings. Herewith please find the letter I have replied to Madan Mohan Goswami in response to his letter dated 4/5/73.
He refers to your letter dated 26/3/73 which I do not possess. So you send me [handwritten] a copy of your letter as well as a copy of the letter which I issued to him in 1972 when I was in Vrindaban. This man is playing some trick so we shall also play some trick. We shall take all the Shebaits to court and pray to the court to settle the matter.
He has mentioned that you are the licensee, but according to the present act the licensee shall be considered as tenant or owner if the licensee has occupied the building or land in February 1973. I think we shall keep this place at Radha Damodar temple as tenant. As Madan Mohan Goswami is trying to play trick we shall not vacate any of the rooms upstairs or downstairs; this should be our policy.
The deposit money of Rs. 700/. with the other Shebait has not yet been settled up. We shall file a petition to the rent controller court and fix up a standard rent for all the four rooms up and down. And the rent which will be fixed up for the upper two rooms, we will adjust for one years rent from the Rs. 700/. with interest. When you file the petition we shall bring in all the Shebaits names. In this way we have to deal with these men.

Hoping this meets you in good health.
Your ever well wisher,



A.C. Bhaktivedanta Swami



Gurudas Adhikary
Vrindaban ISKCON Krishna Balaram Temple [handwritten]
Chatikra Road [handwritten]
Raman Reti, [handwritten] Vrindaban (Mathura)
INDIA