730601 - Letter to Mrs. Nirmala Singhal written from Calcutta
From Vanisource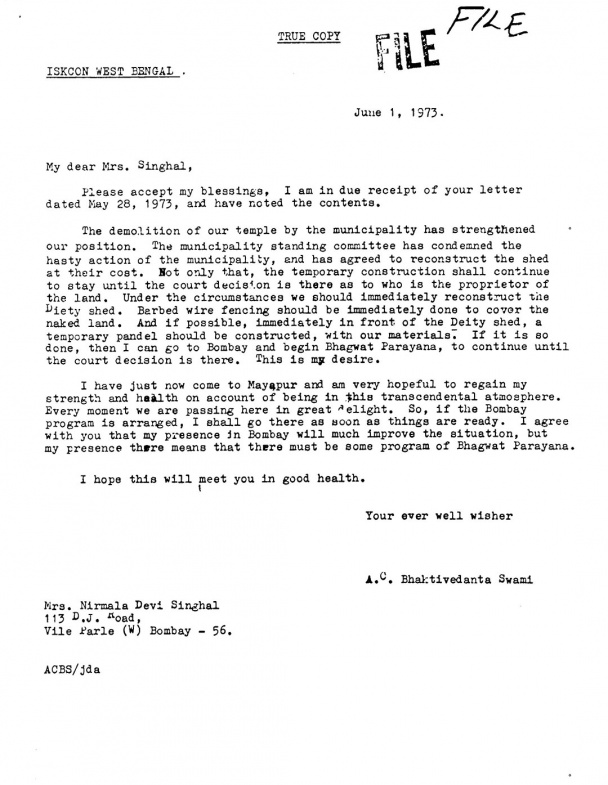 TRUE COPY

ISKCON WEST BENGAL.

June 1, 1973.

My dear Mrs. Singhal,
Please accept my blessings. I am in due receipt of your letter dated May 28, 1973, and have noted the contents.
The demolition of our temple by the municipality has strengthened our position. The municipality standing committee. has condemned the hasty action of the municipality and has agreed to reconstruct the shed at their cost. Not only that, the temporary construction shall continue to stay until the court decision is there as to who is the proprietor of the land. Under the circumstances we should immediately reconstruct the Deity shed. Barbed wire fencing should be immediately done to cover the naked land. And if possible, immediately in front of the Deity shed, a temporary pandel should be constructed, with our materials. If it is so done, then I can go to Bombay and begin Bhagwat Parayana, to continue until the court decision is there. This is my desire.
I have just now come to Mayapur and am very hopeful to regain my strength and health on account of being in this transcendental atmosphere. Every moment we are passing here in great delight. So, if the Bombay program is arranged, I shall go there as soon as things are ready. I agree with you that my presence in Bombay will improve the situation, but my presence there means that there must be some program of Bhagwat Parayana.
I hope this will meet you in good health.

Your ever well wisher,

A.C. Bhaktivedanta Swami

Mrs. Nirmala Devi Singhal
113 D.J. Road,
Vile Parle (W) Bombay - 56.

ACBS/jda