731201 - Letter to Abhirama written from Los Angeles
From Vanisource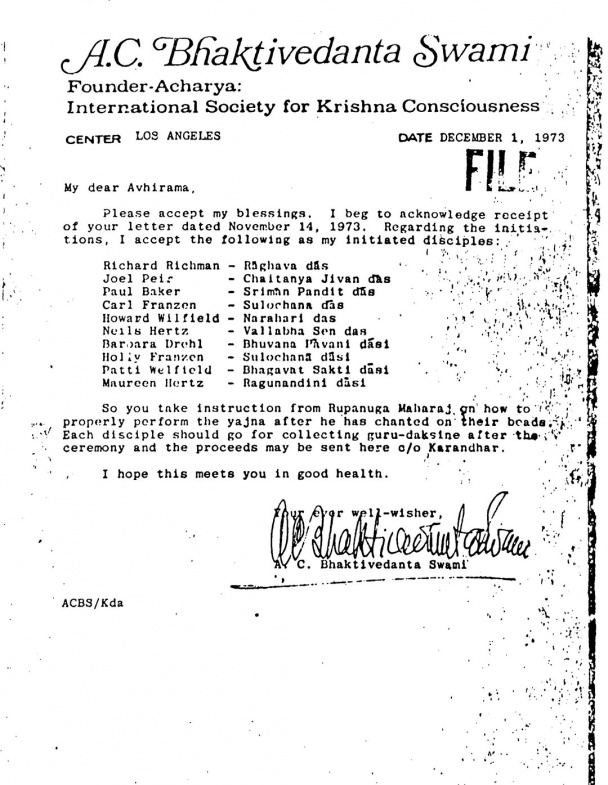 A.C. Bhaktivedanta Swami
Founder-Acharya:
International Society for Krishna Consciousness


DATE December 1,  1973
CENTER  LOS ANGELES


My Dear Avhirama,
Please accept my blessings. I beg to acknowledge receipt of your letter dated November 14, 1973. Regarding the initiations, I accept the following as my initiated disciples:
Richard Richman - Raghava das
Joel Peir            - Chaitanya Jivan das
Paul Baker         - Sriman Pandit das
Carl Franzen       - Sulochana das
Howard Wilfield - Narahari das
Neils Hertz         - Vallabha Sen das
Barbara Drehl     - Bhuvana Pavani dasi
Holly Franzen    - Sulochana dasi
Patti Welfield     - Bhagavat Sakti dasi
Maureen Hertz   - Ragunandini dasi
So you take instruction from Rupanuga Maharaj on how to properly perform the yajna after he has chanted on their beads. Each disciple should go for collecting guru-daksine after the ceremony and the proceeds may be sent here c/o Karandhar.
I hope this meets you in good health.