731205 - Letter to Tamala Krishna written from Los Angeles
From Vanisource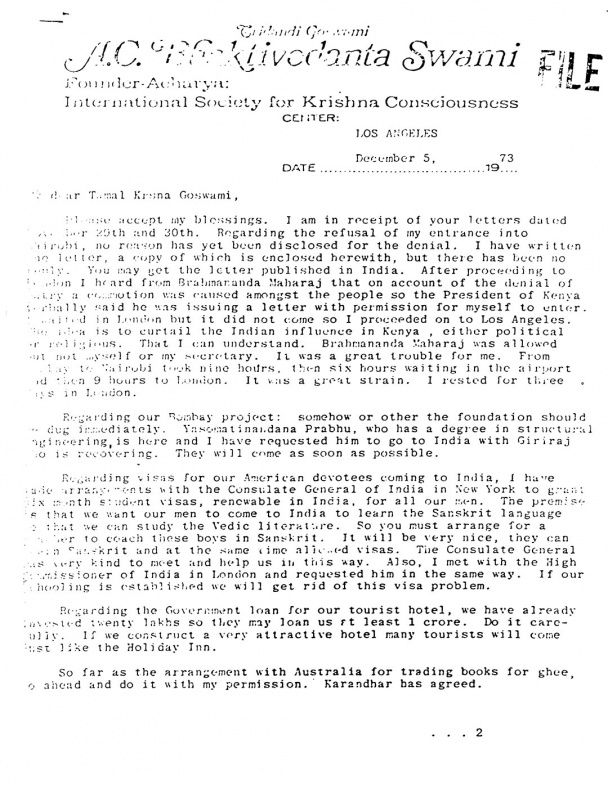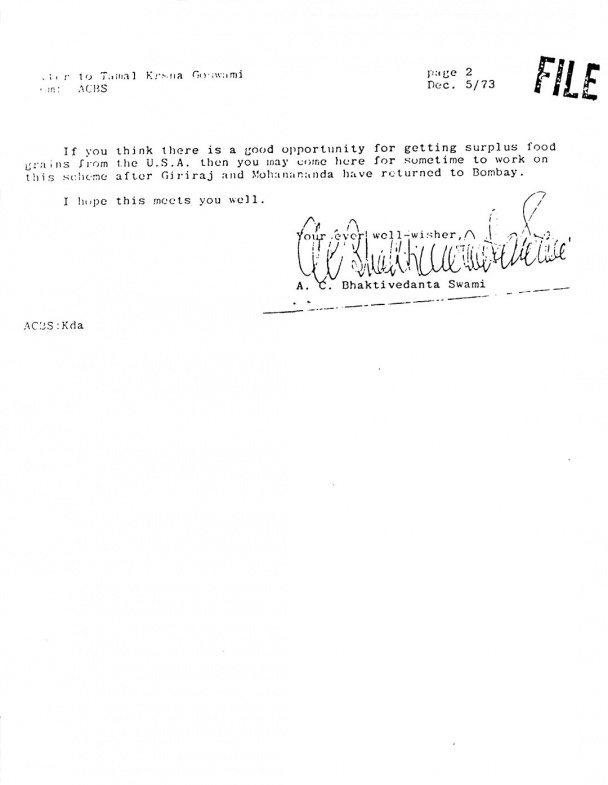 Tridandi Goswami
A.C. Bhaktivedanta Swami
Founder-Acharya:
International Society for Krishna Consciousness
CENTER:   LOS ANGELES
DATE .......December..5,...........1973.

My Dear Tamal Krsna Goswami,
Please accept my blessings. I am in receipt of your letters dated November 29th and 30th. Regarding the refusal of my entrance into Nairobi, no reason has yet been disclosed for the denial. I have written one letter, a copy of which is enclosed herewith, but there has been no reply. You may get the letter published in India. After proceeding to London I heard from Brahmananda Maharaj that on account of the denial of entry a commotion was caused amongst the people so the President of Kenya verbally said he was issuing a letter with permission for myself to enter. I waited in London but it did not come so I proceeded on to Los Angeles. The idea is to curtail the Indian influence in Kenya, either political or religious. That I can understand. Brahmananda Maharaj was allowed but not myself or my secretary. It was a great trouble for me. From Bombay to Nairobi took nine hours, then six hours waiting in the airport and then 9 hours to London. It was a great strain. I rested for three days in London.
Regarding our Bombay project:  somehow or other the foundation should be dug immediately. Yasomatinandana Prabhu, who has a degree in structural engineering, is here and I have requested him to go to India with Giriraj who is recovering. They will come as soon as possible.
Regarding visas for our American devotees coming to India, I have made arrangements with the Consulate General of India in New York to grant six month student visas, renewable in India, for all our men. The premise is that we want our men to come to India to learn the Sanskrit language so that we can study the Vedic literature. So you must arrange for a teacher to coach these boys in Sanskrit. It will be very nice, they can learn Sanskrit and at the same time allowed visas. The Consulate General was very kind to meet and help us in this way. Also, I met with the High Commissioner of India in London and requested him in the same way. If our schooling is established we will get rid of this visa problem.
Regarding the Government loan for our tourist hotel, we have already invested twenty lakhs so they may loan us at least 1 crore. Do it carefully. If we construct a very attractive hotel many tourists will come just like the Holiday Inn.
So far as the arrangement with Australia for trading books for ghee, go ahead and do it with my permission. Karandhar has agreed.

If you think there is a good opportunity for getting surplus food grains from the U.S.A. then you may come here for sometime to work on this scheme after Giriraj and Mohanananda have returned to Bombay.
I hope this meets you well.

Your ever well-wisher,



A.C. Bhaktivedanta Swami

ACBS:Kda