740105 - Letter to Dhananjaya written from Los Angeles
From Vanisource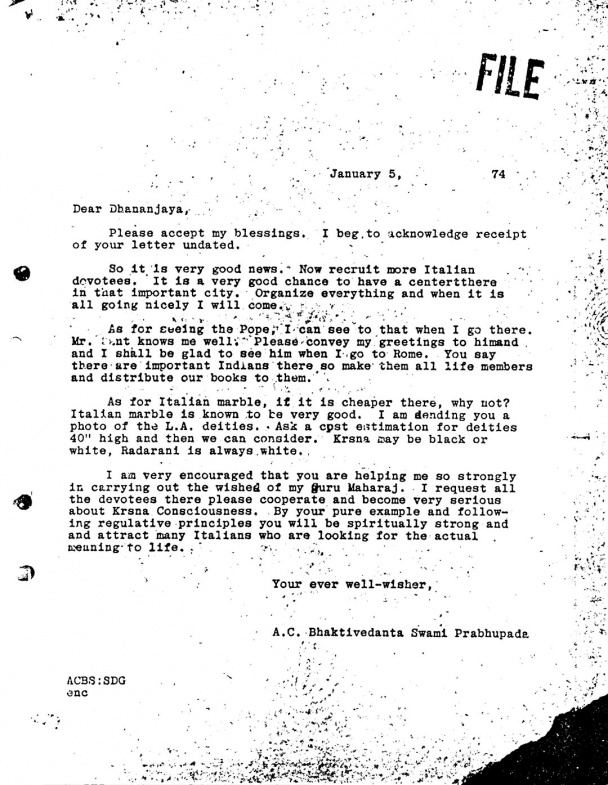 January 5,                     74

Dear Dhananjaya,
Please accept my blessings. I beg to acknowledge receipt of your letter undated.
So it is very good news. Now recruit more Italian devotees. It is a very good chance to have a center there in that important city. Organize everything and when it is all going nicely I will come.
As for seeing the Pope, I can see to that when I go there. Mr. Pant knows me well. Please convey my greetings to him and I shall be glad to see him when I go to Rome. You say there are important Indians there so make them all life members and distribute our books to them.
As for Italian marble, if it is cheaper there, why not? Italian marble is known to be very good. I am sending you a photo of the L.A. deities. Ask a cost estimation for deities 40" high and then we can consider. Krsna may be black or white, Radarani is always white.
I am very encouraged that you are helping me so strongly in carrying out the wishes of my Guru Maharaj. I request all the devotees there please cooperate and become very serious about Krsna Consciousness. By your pure example and following regulative principles you will be spiritually strong and attract many Italians who are looking for the actual meaning to life.

Your ever well-wisher,

A.C. Bhaktivedanta Swami


ACBS:SDG
enc