740106 - Letter to Bhavananda and Jayapataka written from Los Angeles
From Vanisource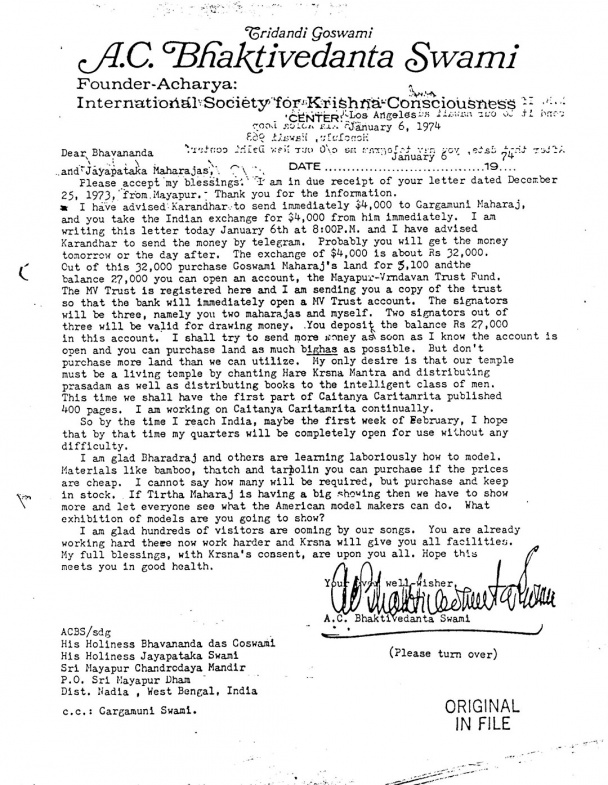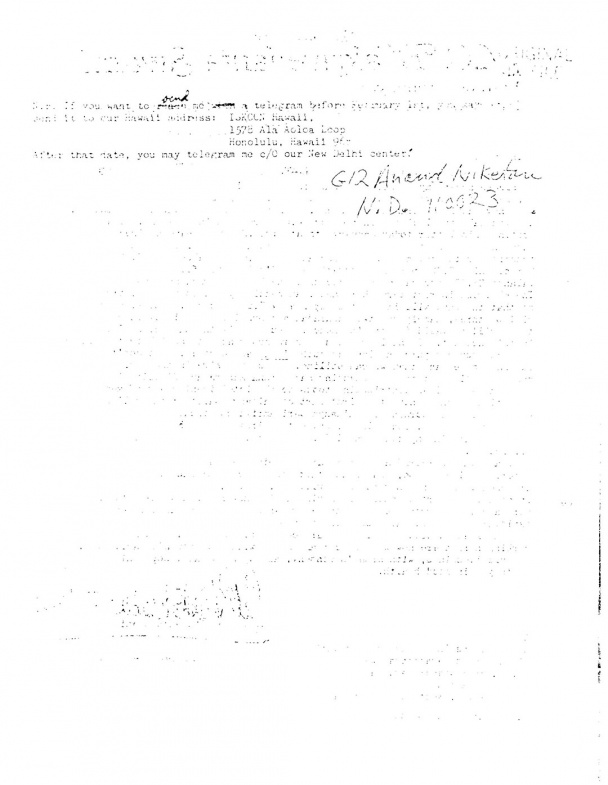 Tridandi Goswami
A.C. Bhaktivedanta Swami
Founder-Acharya:
International Society for Krishna Consciousness
CENTER: Los Angeles
             January 6, 1974
DATE ................January..6..........1974.
Dear Bhavananda and Jayapataka Maharajas,
Please accept my blessings. I am in due receipt of your letter dated December 25, 1973, from Mayapur. Thank you for the information.
I have advised Karandhar to send immediately $4,000 to Gargamuni Maharaj and you take the Indian exchange for $4,000 from him immediately. I am writing this letter today January 6th at 8:00 P.M. and I have advised Karandhar to send the money by telegram. Probably you will get the money tomorrow or the day after. The exchange of $4,000 is about Rs 32,000. Out of this 32,000 purchase Goswami Maharaj's land for 5,100 and the balance 27,000 you can open an account, the Mayapur-Vrndavan Trust Fund. The MV Trust is registered here and I am sending you a copy of the trust so that the bank will immediately open a MV Trust account. The signators will be three, namely you two maharajas and myself. Two signators out of three will be valid for drawing money. You deposit the balance Rs 27,000 in this account. I shall try to send more money as soon as I know the account is open and you can purchase land as much bighas as possible. But don't purchase more land than we can utilize. My only desire is that our temple must be a living temple by chanting Hare Krsna Mantra and distributing prasadam as well as distributing books to the intelligent class of men. This time we shall have the first part of Caitanya Caritamrita published 400 pages. I am working on Caitanya Caritamrita continually.
So by the time I reach India, maybe the first week of February, I hope that by that time my quarters will be completely open for use without any difficulty.
I am glad Bharadraj and others are learning laboriously how to model. materials like bamboo, thatch and tarpolin you can purchase if the prices are cheap. I cannot say how many will be required, but purchase and keep in stock. If Tirtha Maharaj is having a big showing then we have to show more and let everyone see what the American model makers can do. What exhibition of models are you going to show?
I am glad hundreds of visitors are coming by our songs. You are already working hard there now work harder and Krsna will give you all facilities. My full blessings, with Krsna's consent, are upon you all. Hope this meets you in good health.
Your ever well-wisher,



A.C. Bhaktivedanta Swami
ACBS/sdg
His Holiness Bhavananda das Goswami
His Holinaess Jayapataka Swami
Sri Mayapur Chandrodaya Mandir
P.O. Sri Mayapur Dham
Dist. Nadia, West Bengal, India
cc: Gargamuni Swami
N.B. If you want to send [handwritten] me a telegram before February 1st, you may send it to our Hawaii address:    ISKCON Hawaii,
                                                           1578 Ala Aoloa Loop
                                                           Honolulu, Hawaii 968.
After that date, you may telegram me c/o our New Delhi center.
G 12 Anand Niketan
N.D.   110023 [handwritten]