740315 - Letter to Jayatirtha written from Vrndavana
From Vanisource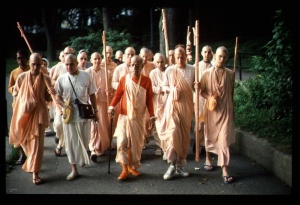 March 15, 1974

My Dear Jaya tirtha,
Please accept my blessings. There is a great blunder by the Union Bank in the matter of dispatching the monthly interest of $760.27 (Seven hundred and sixty dollars and twenty seven cents).As informed by your telegram they dispatched this amount to my account through the Charter Bank. I do not know when the Charter Bank received the money they advised the Punjab National Bank, however, on the 1st of March with some vouchers to be signed by me. As I was not here the vouchers were kept and yesterday I signed them. These vouchers have again been sent to the New Delhi branch to be again dispatched back to Vrindaban. According to the manager of the Vrindaban Punjab National Bank it will take 15 days. It has taken one month until I can get the money. That means we are losers of one month interest in transfer. How is it to be counteracted? We cannot wait so long to get the money here. The money, $100,000,00 (One hundred thousand dollars) which was dispatched through the Security Pacific Bank was immediately received in Vrindaban by the Punjab National Bank. Therefore to send money through the Security Pacific Bank is advisable because they have some corresponding interrelationship with the Punjab Bank. To send money through the Security Pacific Bank is profitable and safer. Under the circumstances you should immediately see the Union Bank Manager Mr. Art Schnieder and arrange to remit next payment through the Pacific Security Bank advising Punjab National Bank to immediately transfer, and if the Union Bank cannot do so, then I think I will have to transfer the account to the Security Pacific Bank. Please go and see the manager of the Security Pacific Bank whether they have direct correspondence with the Punjab National Bank, New Delhi.
On the whole, see the money is remitted without delay. This is a great havoc that we haven't received the first installment yet, and I do not know of the second installment. Clear the matter and let me know by letter. Also see that a letter of advice is sent from the Union Bank.
Your ever well-wisher,
A.C. Bhaktivedanta Swami.