740331 - Letter to Jayatirtha written from Bombay
From Vanisource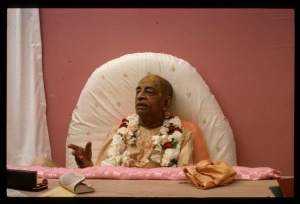 March 31, 1974

My Dear Jaya tirtha,
Please accept my blessings. I beg to acknowledge receipt of your letter dated March 20, 1974. I have noted the contents and duly received receipts for money deposited in the Union Bank.
I understand three checks totalling $1,278.21 are sent for collection to various countries and you will notify me when these are credited to my account at the Union Bank.
In your letter you made no reference to my letter of March 15 to you, and I am therefore enclosing a copy of same. Please let me hear from you on this. I want arrangement that the money from my interest of the Certified Deposit arrive at the Punjab National Bank three days after remittance by the bank in the U.S. If the Union Bank cannot arrange this I want you to inquire to see if the Security Pacific Bank is able to do it, as stated in my letter of March 15.
In reference to your proposal that you switch banks in order to get higher rates that should be investigated very carefully that the bank is very reliable. Hope this finds you in good health.
Your ever well-wisher,
A.C. Bhaktivedanta Swami
April