740504 - Letter to Madhudvisa written from Bombay
From Vanisource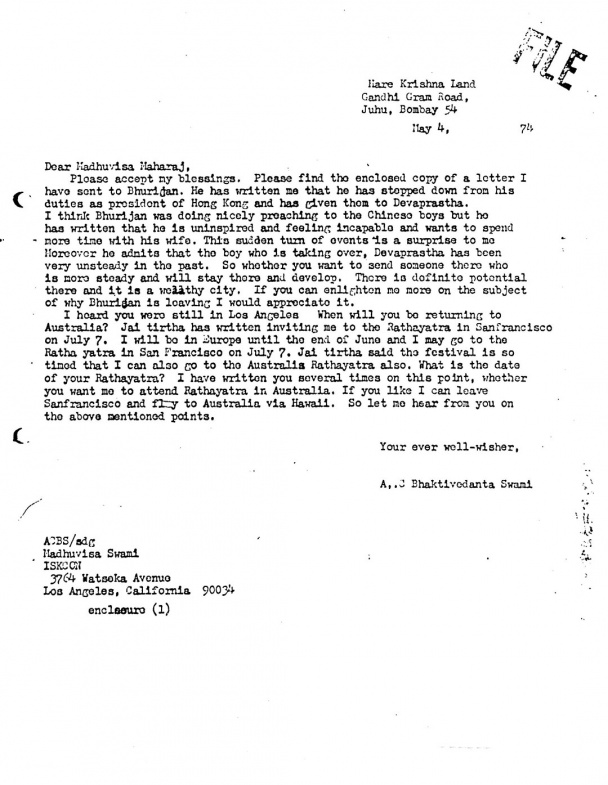 Hare Krishna Land,
Gandhi Gram Road,
Juhu, Bombay 54
May 4,               74

Dear Madhuvisa Maharaj,
Please accept my blessings. Please find the enclosed copy of a letter I have sent to Bhurijan. He has written me that he has stepped down from his duties as president of Hong Kong and has given them to Devaprastha. I think Bhurijan was doing nicely preaching to the Chinese boys but he has written that he is uninspired and feeling incapable and wants to spend more time with his wife. This sudden turn of events is a surprise to me. Moreover he admits that the boy who is taking over, Devaprastha has been very unsteady in the past. So whether you want to send someone there who is more steady and will stay there and develop. There is definite potential there and it is a wealthy city. If you can enlighten me more on the subject of why Bhurijan is leaving I would appreciate it.
I heard you were still in Los Angeles. When will you be returning to Australia? Jai tirtha has written inviting me to the Rathayatra in San Francisco on July 7. I will be in Europe until the end of June and I may go to the Ratha yatra in San Francisco on July 7. Jai tirtha said the festival is so timed that I can also go to the Australia Rathayatra also. What is the date of your Rathayatra? I have written you several times on this point, whether you want me to attend Rathayatra in Australia. If you like I can leave San Francisco and fly to Australia via Hawaii. So let me hear from you on the above mentioned points.

Your ever well-wisher,

A.C. Bhaktivedanta Swami


ACBS/sdg
Madhuvisa Swami
ISKCON
3764 Watseka Avenue
Los Angeles, California 90034