740813 - Letter to Ramesvara written from Vrndavana
From Vanisource
[[Category:Letters - Signed, 1974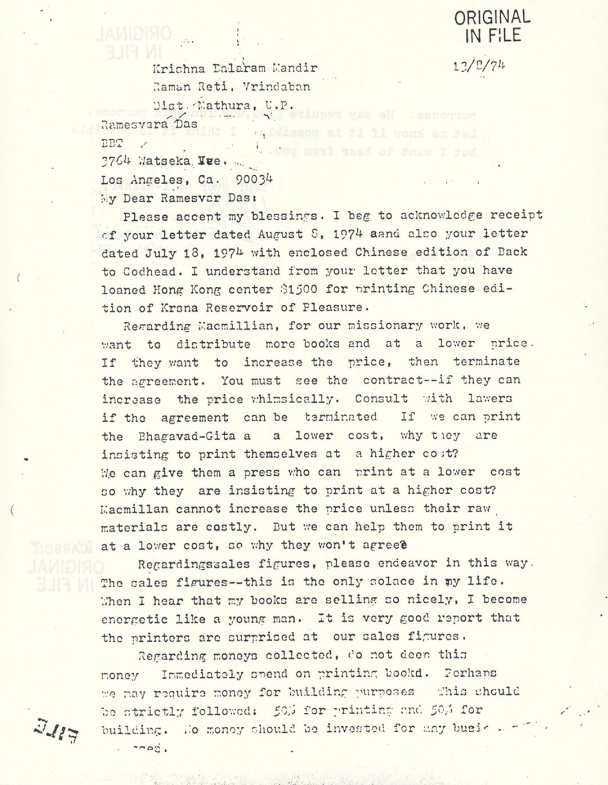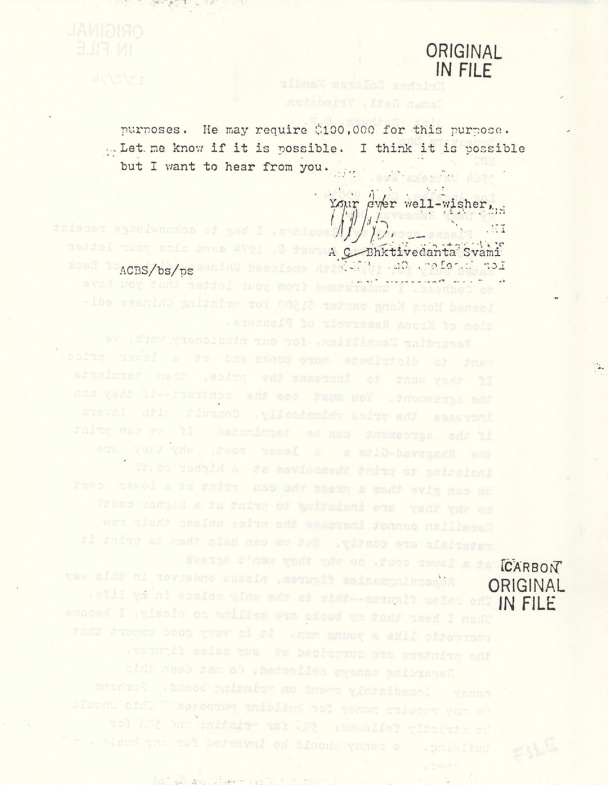 Krishna Balaram Mandir
Raman Reti, Vrindaban
Dist. Mathura U.P.
13/8/74
Ramesvar Das
BBT
3764 Watseka Ave.
Los Angeles, Ca.   90034
My Dear Ramesvar Das:
Please accept my blessings. I beg to acknowledge receipt of your letter dated August 8, 1974 and also your letter dated July 18, 1974 with enclosed Chinese edition of Back to Godhead. I understand from your letter that you have loaned Hong Kong center $1500 for printing Chinese edition of Krsna Reservoir of Pleasure.
Regarding Macmillan, for our missionary work, we want to distribute more books and at a lower price. If they want to increase the price, then terminate the agreement. You must see the contract--if they can increase the price whimsically. Consult with lawyers if the agreement can be terminated. If we can print the Bhagavad-Gita at a lower cost, why they are insisting to print themselves at a higher cost? We can give them a press who can print at a lower cost so why they are insisting to print at a higher cost? Macmillan cannot increase the price unless their raw materials are costly. But we can help them to print it at a lower cost, so why they won't agree?
Regarding sales figures, please endeavor in this way. The sales figures--this is the only solace in my life. When I hear that my books are selling so nicely, I become energetic like a young man. It is very good report that the printers are surprised at our sales figures.
Regarding moneys collected, do not keep this money. Immediately spend on printing books. Perhaps we may require money for building purposes. This should be strictly followed: 50% for printing and 50% for building. No money should be invested for any business purposes. He may require $100,000 for this purpose. Let me know if it is possible. I think it is possible but I want to hear from you.

Your ever well wisher,
     


A.C. Bhaktivedanta Swami
ACBS/bs/ps