740914 - Letter to Jayatirtha written from Vrndavana
From Vanisource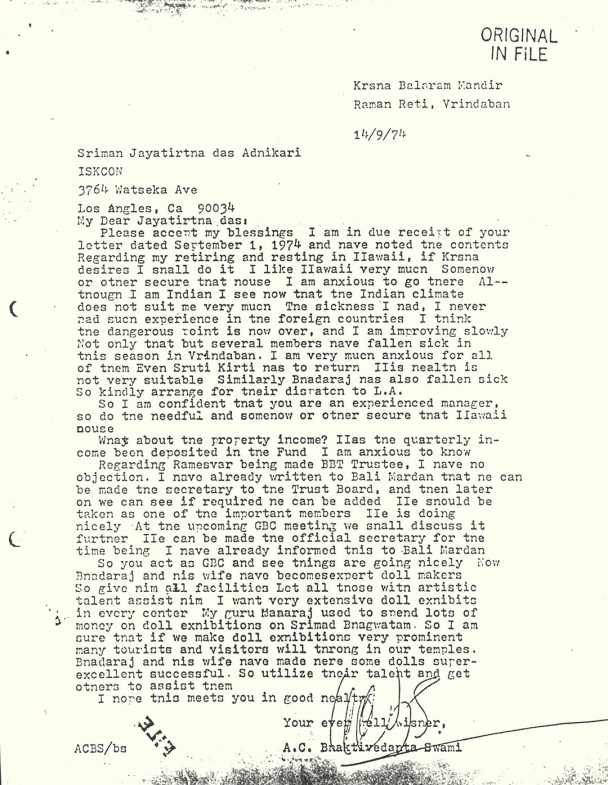 Krishna Balaram Mandir
Raman Reti, Vrindaban
14/9/74
Sriman Jayatirtha das Adhikari
ISKCON
3764 Watseka Ave
Los Angeles, Ca   90034
My Dear Jayatirtha das:
Please accept my blessings. I am in due receipt of your letter dated September 1, 1974 and have noted the contents. Regarding my retiring and resting in Hawaii, if Krsna desires I shall do it. I like Hawaii very much. Somehow or other secure that house. I am anxious to go there. Although I am Indian I see now that the Indian climate does not suit me very much. The sickness I had, I never had such experience in the foreign countries. I think the dangerous point is now over, and I am improving slowly. Not only that but several members have fallen sick in this season in Vrindaban. I am very much anxious for all of them. Even Sruti Kirti has to return. His health is not very suitable. Similarly Bhadaraj has also fallen sick. So kindly arrange for their dispatch to L.A.
So I am confident that you are an experienced manager, so do the needful and somehow or other secure that Hawaii house.
What about the property income? Has the quarterly income been deposited in the Fund. I am anxious to know.
Regarding Ramesvar being made BBT Trustee, I have no objection. I have already written to Bali Mardan that he can be made the secretary to the Trust Board, and then later on we can see if required he can be added. He should be taken as one of the important members. He is doing nicely. At the upcoming GBC meeting we shall discuss it further. He can be made the official secretary for the time being. I have already informed this to Bali Mardan.
So you act as GBC and see things are going nicely. Now Bhadaraj and his wife have become expert doll makers. So give him all facilities. Let all those with artistic talent assist him. I want very extensive doll exhibits in every center. My guru maharaj used to spend lots of money on doll exhibitions on Srimad-Bhagavatam. So I am sure that if we make doll exhibitions very prominent many tourists and visitors will throng in our temples. Bhadaraj and his wife have made here some dolls super excellent successful. So utilize their talent and get others to assist them.
I hope this meets you in good health.