741123 - Letter to Hansadutta written from Bombay
From Vanisource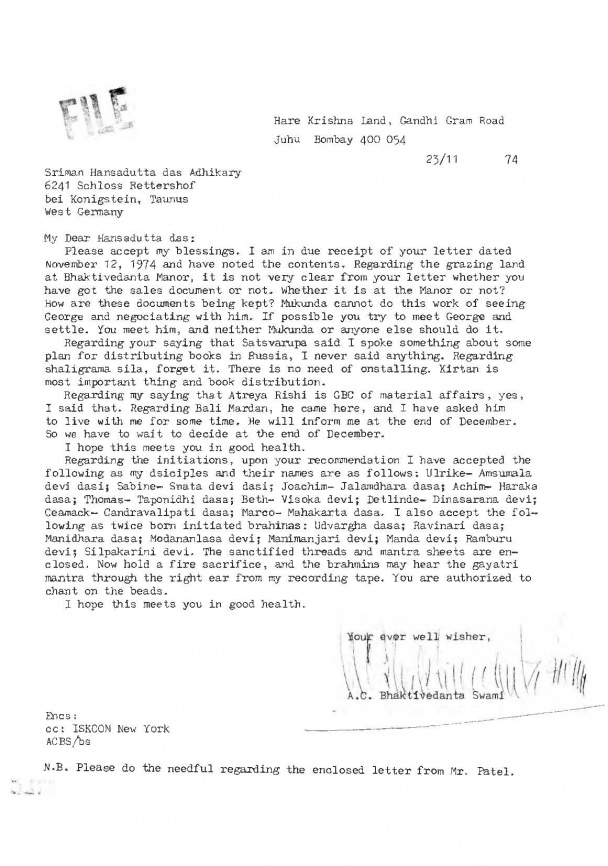 Hare krishna Land, Gandhi Gram Road
Juhu, Bombay 400 054
23/11           74
Sriman Hansadutta das Adhikary
6241 Schloss Rettershof
bei Konigstein, Taunus
West Germany
My Dear Hansadutta das:
Please accept my blessings. I am in due receipt of your letter dated November 12, 1974 and have noted the contents. Regarding the grazing land at Bhaktivedanta Manor, it is not very clear from your letter whether you have got the sales document or not. Whether it is at the Manor or not? How are these documents being kept? Mukunda cannot do this work of seeing George and negotiating with him. If possible you try to meet George and settle. You meet him, and neither Mukunda or anyone else should do it.
Regarding your saying that Satsvarupa said I spoke something about some plan for distributing books in Russia, I never said anything. Regarding saligrama sila, forget it. There is no need of installing. Kirtana is most important thing and book distribution.
Regarding my saying that Atreya Rishi is GBC of material affairs, yes, I said that. Regarding Bali Mardan, he came here, and I have asked him to live with me for some time. He will inform me at the end of December. So we have to wait to decide at the end of December.
I hope this meets you in good health.
Regarding the initiations, upon your recommendations I have accepted the following as my disciples and their names are as follows: Ulrike—Amsumala devi dasi; Sabine—Snata devi dasi; Joachim—Jalamdhara dasa; Achim—Haraka dasa; Thomas—Taponidhi dasa; Beth—Visoka devi; Detlinde—Dinasarana devi; Ceamack—Candravalipati dasa; Marco—Mahakarta dasa. I also accept the following as twice born initiated brahmins: Udvargha dasa; Ravinari dasa: Manidhara dasa; Modananlasa devi; Manimanjari devi; Manda devi; Ramburu devi; Silpakarini devi. The sanctified threads and mantra sheets are enclosed. Now hold a fire sacrifice, and the brahmins may hear the gayatri mantra through the right ear from my recording tape. You are authorized to chant on the beads.
I hope this meets you in good health.

Your ever well wisher,



A.C. Bhaktivedanta Swami
Encs:
cc: ISKCON New York
ACBS/bs
N.B. Please do the needful regarding the enclosed letter from Mr. Patel.