741227 - Letter to Gopijanavallabha written from Bombay
From Vanisource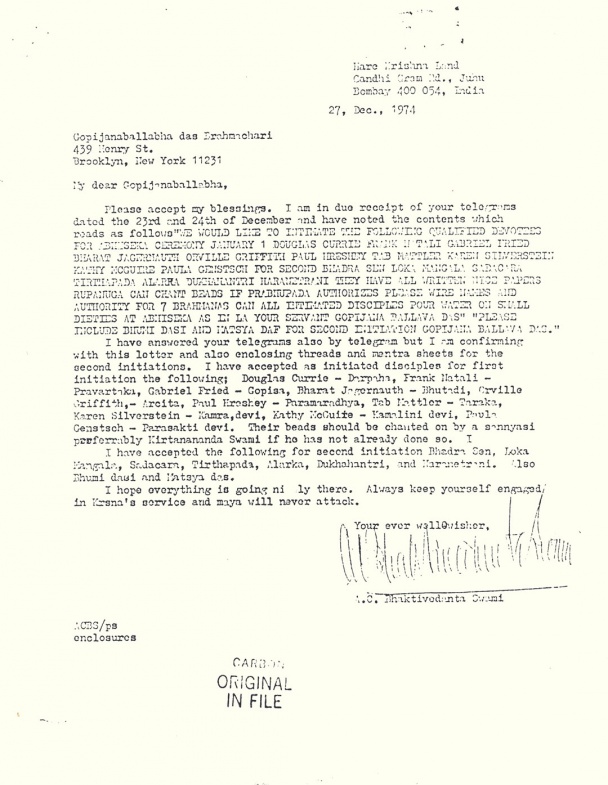 Hare Krishna Land
Gandhi Gram Rd., Juhu
Bombay 400 054, India
27, Dec., 1974


Gopijanaballabha das Brahmachari
439 Henry St.
Brooklyn, New York 11231
My dear Gopijanaballabha,
Please accept my blessings. I am in due receipt of your telegrams dated the 23rd and 24th of December and have noted the contents which reads as follows "WE WOULD LIKE TO INTIMATE THE FOLLOWING QUALIFIED DEVOTEES FOR ABHISEKA CEREMONY JANUARY 1 DOUGLAS CURRIE FRANK NATALI GABRIEL FRIED BHARAT JAGERNAUTH ORVILLE GRIFFITH PAUL HERSHEY TAB MATTLER KAREN SILVERSTEIN KATHY MCGUIRE PAULA GENSTSCH FOR SECOND BHADRA SEN LOKA MANGALA SADACARA TIRTHAPADA ALARKA DUKHAHANTRI HARANETRANI THEY HAVE ALL WRITTEN NICE PAPERS RUPANUGA CAN CHANT BEADS IF PRABHUPADA AUTHORIZES PLEASE WIRE NAMES AND AUTHORITY FOR 7 BRAHMANAS CAN ALL INTIMATED DISCIPLES POUR WATER ON SMALL DEITIES AT ABHISEKA AS IN LA YOUR SERVANT GOPIJANA BALLAVA DAS" "PLEASE INCLUDE BHUMI DASI AND MATSYA DAS FOR SECOND INITIATION GOPIJANA BALLAVA DAS."
I have answered your telegrams also by telegram but I am confirming with this letter and also enclosing threads and mantra sheets for the second initiations. I have accepted as initiated disciples for first initiation the following; Douglas Currie — Darpaha, Frank Natali — Pravartaka, Gabriel Fried — Gopisa, Bharata Jagernauth — Bhutadi, Orville Griffith,— Arcita, Paul Hreshey — Paramaradhya, Tab Mattler — Taraka, Karen Silverstein — Kamra, devi, Kathy McGuire — Kamalini devi, Paula Genstsch — Parasakti devi. Their beads should be chanted on by a sannyasi preferably Kirtanananda Swami if he has not already done so.
I have accepted the following for second initiation Bhadra Sen, Loka Mangala, Sadacara, Tirthapada, Alarka, Dukhahantri, and Haranetrani. Also Bhumi dasi and Matsya das.
I hope everything is going nicely there. Always keep yourself engaged in Krsna's service and maya will never attack.
Your ever well-wisher,


A.C. Bhaktivedanta Swami
ACBS/ps
enclosures