750102 - Letter to Mr. Punja written from Bombay
From Vanisource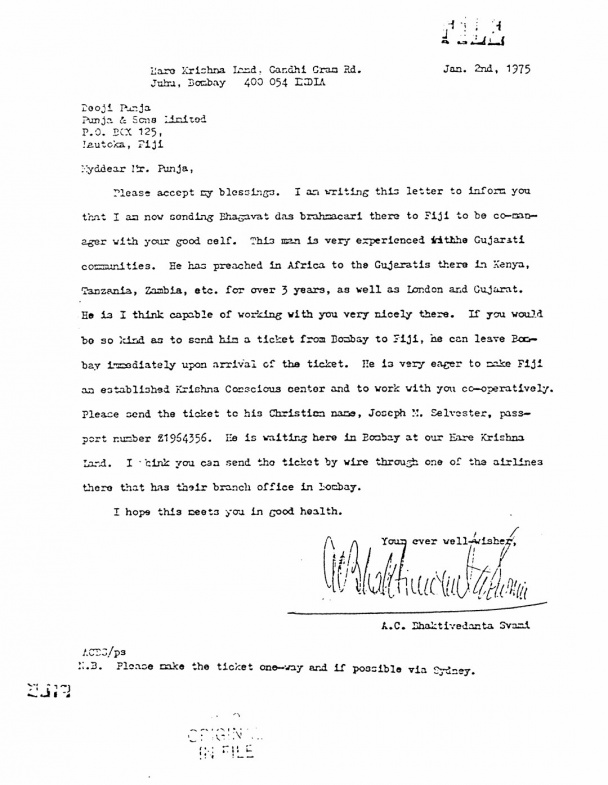 Hare Krishna Land, Gandhi Gram Rd.
Juhu, Bombay   400 054 India
Jan. 2nd, 1975
Dooji Punja
Punja & Sons Limited
P.O. BOX 125,
Lautoka, Fiji
My dear Mr. Punja,
Please accept my blessings. I am writing this letter to inform you that I am now sending Bhagavat das brahmacari there to Fiji to be co-manager with your good self. This man is very experienced in the Gujarati communities. He has preached in Africa to the Gujaratis there in Kenya, Tanzania, Zambia, etc. for over 3 years, as well as London and Gujarat. He is I think capable of working with you very nicely there. If you would be so kind as to send him a ticket from Bombay to Fiji, he can leave Bombay immediately upon arrival of the ticket. He is very eager to make Fiji an established Krishna Conscious center and to work with you co-operatively. Please send the ticket to his Christian name, Joseph M. Selvester, passport number Z1964356. He is waiting here in Bombay at our Hare Krishna Land. I think you can send the ticket by wire through one of the airlines there that has their branch office in Bombay.
I hope this meets you in good health.
Your ever well-wisher,



A.C. Bhaktivedanta Swami
ACBS/ps
N.B. Please make the ticket one-way and if possible via Sydney.