750114 - Letter to Madhava Maharaja written from Bombay
From Vanisource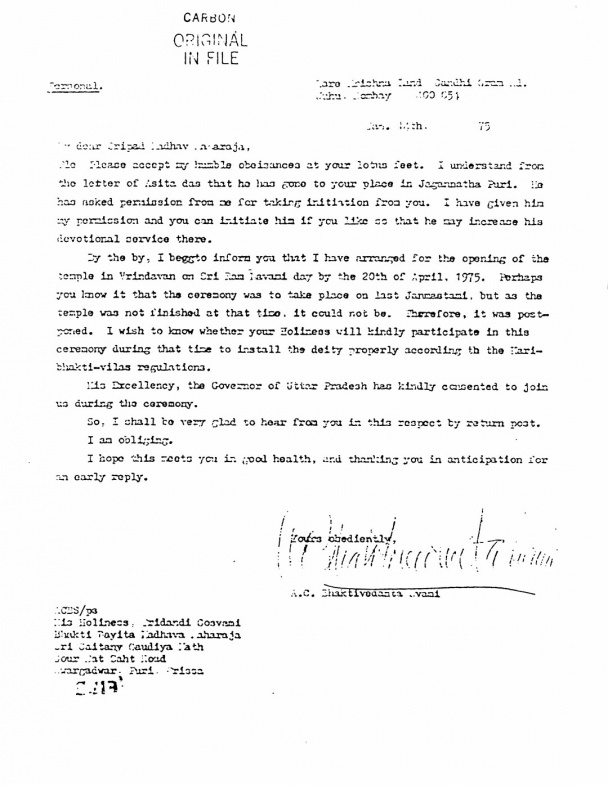 Personal. [unclear]
Hare Krishna Land Gandhi Gram Rd.
Juhu, Bombay   400 054

Jan. 14th,       75
My dear Sripad Madhava Maharaja,
Please accept my humble obeisances at your lotus feet. I understand from the letter of Asita das that he has gone to your place in Jagannatha Puri. He has asked permission from me for taking initiation from you. I have given him my permission and you can initiate him if you like so that he may increase his devotional service there.

By the by, I beg to inform you that I have arranged for the opening of the temple in Vrindavan on Sri Ram Navami day by the 20th of April, 1975. Perhaps you know it that the ceremony was to take place on last Janmastami, but as the temple was not finished at that time, it could not be. Therefore, it was postponed. I wish to know whether your Holiness will kindly participate in this ceremony during that time to install the deity properly according to the Hari-bhakti-vilas regulations.

His Excellency, the Governor of Uttar Pradesh has kindly consented to join us during the ceremony.

So, I shall be very glad to hear from you in this respect by return post.

I am obliging.

I hope this meets you in good health, and thanking you in anticipation for an early reply.

Yours obediently,



A.C. Bhaktivedanta Svami
ACBS/ps
His Holiness Tridandi Goswami
Bhakti Dayita Madhava Maharaja
Sri Caitanya Gaudiya Math
Gour Jat Ghat Road [unclear]
Swargadwar. Puri. Orissa