750201 - Letter to Govinda dasi written from Honolulu
From Vanisource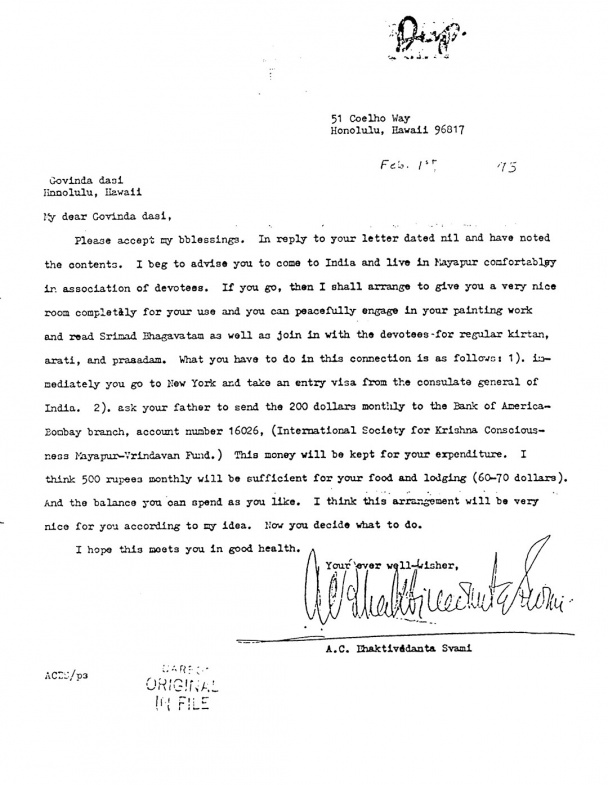 51 Coelho Way
Honolulu, Hawaii 96817
[Handwritten] Feb. 1st,       75
Govinda dasi
Honolulu, Hawaii
My dear Govinda dasi,
Please accept my blessings. In reply to your letter dated nil and have noted the contents. I beg to advise you to come to India and live in Mayapur comfortably in association of devotees. If you go, then I shall arrange to give you a very nice room completely for your use and you can peacefully engage in your painting work and read Srimad Bhagavatam as well as join in with the devotees for regular kirtan, arati, and prasadam. What you have to do in this connection is as follows: 1). immediately you go to New York and take an entry visa from the consulate general of India. 2). ask your father to send the 200 dollars monthly to the Bank of America-Bombay branch, account number 16026, (International Society for Krishna Consciousness Mayapur-Vrindavan Fund.) This money will be kept for your expenditure. I think 500 rupees monthly will be sufficient for your food and lodging (60-70 dollars). And the balance you can spend as you like. I think this arrangement will be very nice for you according to my idea. Now you decide what to do.
I hope this meets you in good health.
Your ever well-wisher,



A.C. Bhaktivedanta Swami
ACBS/ps