750202 - Letter to Dayananda written from Honolulu
From Vanisource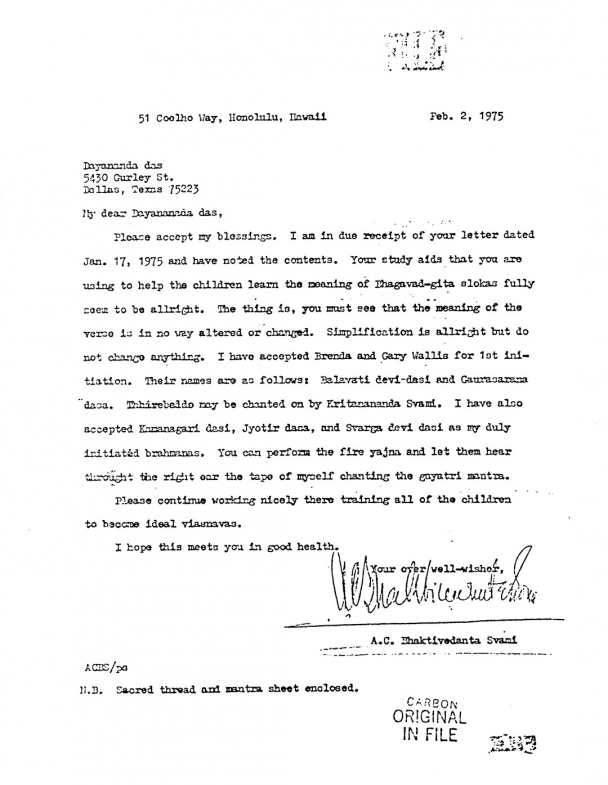 51 Coelho Way, Honolulu, Hawaii
Feb. 2, 1975
Dayananda das
5430 Gurley St.
Dallas, Texas 75223
My dear Dayananda das,
Please accept my blessings. I am in due receipt of your letter dated Jan. 17, 1975 and have noted the contents. Your study aids that you are using to help the children learn the meaning of Bhagavad-gita slokas fully seem to be alright. The thing is, you must see that the meaning of the verse is in no way altered or changed. Simplification is alright but do not change anything. I have accepted Brenda and Gary Wallis for 1st initiation. Their names are as follows: Balavati devi-dasi and Gaurasarana dasa. Their beads may be chanted on by Kirtanananda Svami. I have also accepted Kamanagari dasi, Jyotir dasa, and Svarga devi dasi as my duly initiated brahmanas. You can perform the fire yajna and let them hear through the right ear the tape of myself chanting the gayatri mantra.
Please continue working nicely there training all of the children to become ideal vaisnavas.
I hope this meets you in good health.
Your ever well-wisher,



A.C. Bhaktivedanta Swami
ACBS/ps
N.B. Sacred thread and mantra sheet enclosed.