750202 - Letter to Ravindra Svarupa written from Honolulu
From Vanisource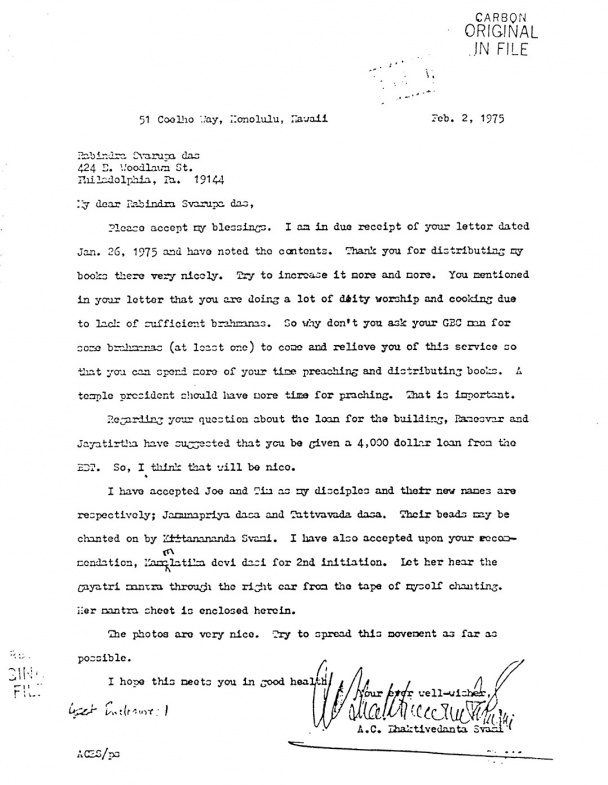 51 Coelho Way, Honolulu, Hawaii
Feb. 2, 1975
Rabindra Svarupa das
424 B. Woodlawn St.
Philadelphia, Pa. 19144
My dear Rabindra Svarupa das,
Please accept my blessings. I am in due receipt of your letter dated Jan. 26, 1975 and have noted the contents. Thank you for distributing my books there very nicely. Try to increase it more and more. You mentioned in your letter that you are doing a lot of deity worship and cooking due to lack of sufficient brahmanas. So why don't you ask your GBC man for some brahmanas (at least one) to come and releive you of this service so that you can spend more of your time preaching and distributing books. A temple president should have more time for preaching. That is important.
Regarding your question about the loan for the building, Ramesvara and Jayatirtha have suggested that you be given a 4,000 dollar loan from the BBT. So, I think that will be nice.
I have accepted Joe and Tim as my disciples and their new names are respectively; Jamunapriya dasa and Tattvavada dasa. Their beads may be chanted on by Kirtanananda Svami. I have also accepted upon your recommendation, Kamalatika devi dasi for 2nd initiation. Let her hear the gayatri mantra through the right ear from the tape of myself chanting. Her mantra sheet is enclosed herein.
The photos are very nice. Try to spread this movement as far as possible.
I hope this meets you in good health.
Your ever well-wisher,



A.C. Bhaktivedanta Swami
[handwritten] [unclear] Enclosure: 1
ACBS/ps