750204 - Letter to Giriraja written from Honolulu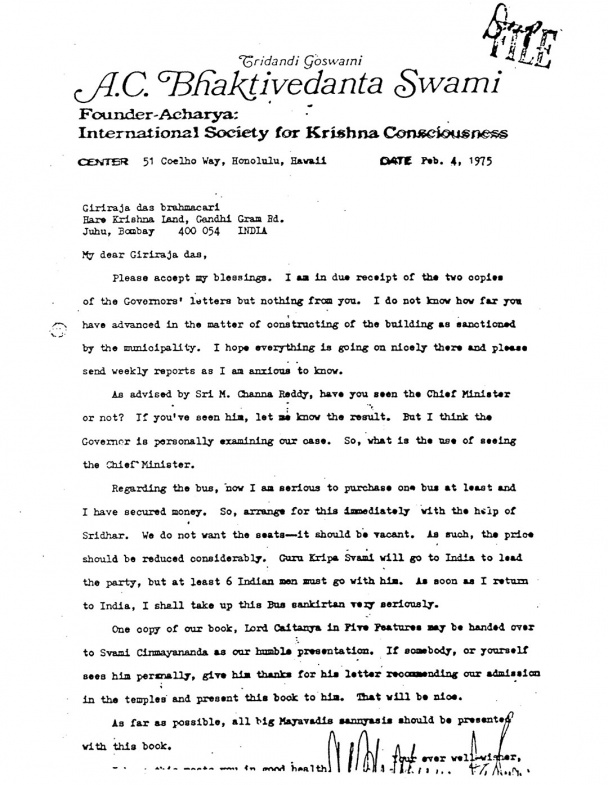 Tridandi Goswami
A.C. Bhaktivedanta Swami
Founder-Acharya:
International Society for Krishna Consciousness
CENTER 51 Coelho Way, Honolulu, Hawaii
DATE Feb. 4, 1975
Giriraja das brahmacari
Hare Krishna Land, Gandhi Gram Rd.
Juhu, Bombay   400 054   INDIA
My dear Giriraja das,
Please accept my blessings. I am in due receipt of the two copies of the Governors' letters but nothing from you. I do not know how far you have advanced in the matter of constructing of the building as sanctioned by the municipality. I hope everything is going on nicely there and please send weekly reports as I am anxious to know.
As advised by Sri M. Channa Reddy, have you seen the Chief Minister or not? If you've seen him, let me know the result. But I think the Governor is personally examining our case. So, what is the use of seeing the Chief Minister.
Regarding the bus, now I am serious to purchase one bus at least and I have secured money. So, arrange for this immediately with the help of Sridhar. We do not want the seats—it should be vacant. As such, the price should be reduced considerably. Guru Kripa Svami will go to India to lead the party, but at least 6 Indian men must go with him. As soon as I return to India, I shall take up this Bus sankirtan very seriously.
One copy of our book, Lord Caitanya in Five Features may be handed over to Svami Cinmayananda as our humble presentation. If somebody, or youself sees him personally, give him thanks for his letter recommending our admission in the temples and present this book to him. That will be nice.
As far as possible, all big Mayavadis sannyasis should be presented with this book.
Hope this meets you in good health.