750502 - Letter to Kartikeya Mahadevia written from Delhi
From Vanisource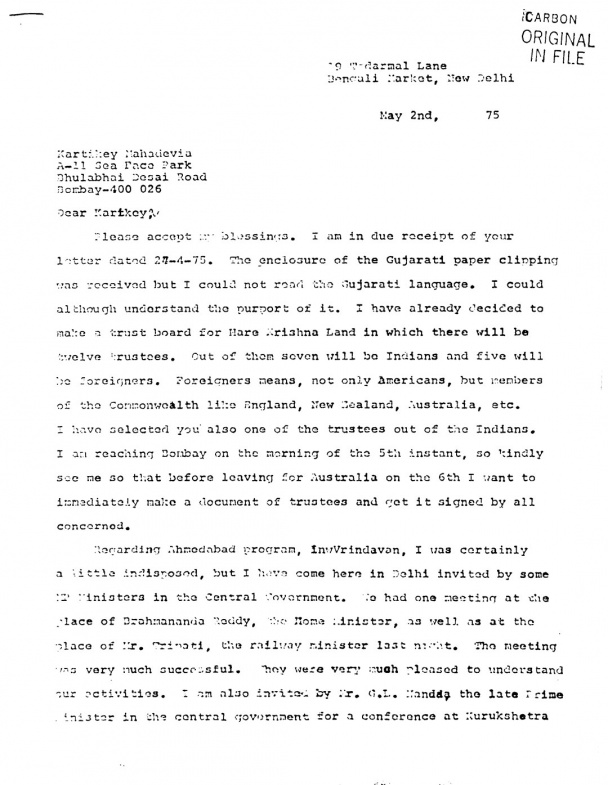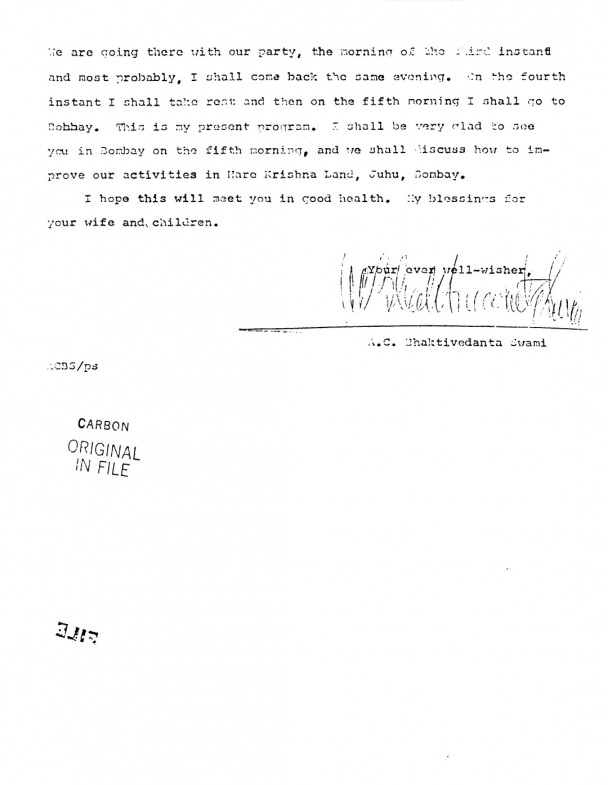 19 Todarmal Lane
Bengali Market, New Delhi

May 2nd,           75

Kartikey Mahadevia
A-11 Sea Pace Park
Bhulabhai Desai Road
Bombay-400 026
Dear Kartikey,
Please accept my blessings. I am in due receipt of your letter dated 27-4-75. The enclosure of the Gujarati paper clipping was received but I could not read the Gujarati language. I could although understand the purport of it. I have already decided to make a trust board for Hare Krishna Land in which there will be twelve trustees. Out of them seven will be Indians and five will be foreigners. Foreigners means, not only Americans, but members of the Commonwealth like England, New Zealand, Australia, etc. I have selected you also one of the trustees out of the Indians. I am reaching Bombay on the morning of the 5th instant, so kindly see me so that before leaving for Australia on the 6th I want to immediately make a document of trustees and get it signed by all concerned.
Regarding Ahmedabad program, in Vrindavan, I was certainly a little indisposed, but I have come here in Delhi invited by some MP Ministers in the Central Government. We had one meeting at the place of Brahmananda Reddy, the Home Minister, as well as at the place of Mr. Tripati, the railway minister last night. The meeting was very much successful. They were very much pleased to understand our activities. I am also invited by Mr. G.L. Handa, the late Prime Minister in the central government for a conference at Kurukshetra. We are going there with our party, the morning of the third instant and most probably, I shall come back the same evening. On the fourth instant I shall take rest and then on the fifth morning I shall go to Bombay. This is my present program. I shall be very glad to see you in Bombay on the fifth morning, and we shall discuss how to improve our activities in Hare Krishna Land, Juhu, Bombay.
I hope this will meet you in good health. My blessings for your wife and children.

A.C. Bhaktivedanta Swami
ACBS/ps