750519 - Letter to Vinode Kumar Chudamani written from Melbourne
From Vanisource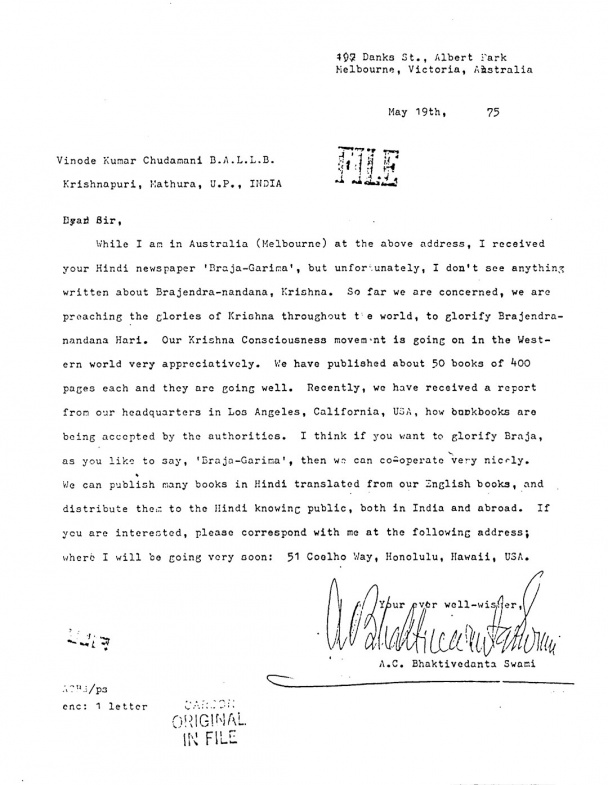 197 Danks St., Albert Park
Melbourne, Victoria, Australia

May 19th,       75

Vinode Kumar Chudamani B.A.L.L.B.
Krishnapuri, Mathura, U.P., INDIA

Dear Sir,
While I am in Australia (Melbourne) at the above address, I received your Hindi newspaper "Braja-Garima," but unfortunately, I don't see anything written about Brajendra-nandana, Krishna. So far we are concerned, we are preaching the glories of Krishna throughout the world, to glorify Brajendra-nandana Hari. Our Krishna Consciousness movement is going on in the Western world very appreciatively. We have published about 50 books of 400 pages each and they are going well. Recently, we have received a report from our headquarters in Los Angeles, California, USA, how our books are being accepted by the authorities. I think if you want to glorify Braja, as you like to say, "Braja-Garima," then we can co-operate very nicely. We can publish many books in Hindi translated from our English books, and distribute them to the Hindi knowing public, both in India and abroad. If you are interested, please correspond with me at the following address; where I will be going very soon: 51 Coelho Way, Honolulu, Hawaii, USA.

Your ever well-wisher,



A.C. Bhaktivedanta Swami
ACBS/ps
enc: 1 letter