750621 - Letter to Gopala Krishna written from Los Angeles
From Vanisource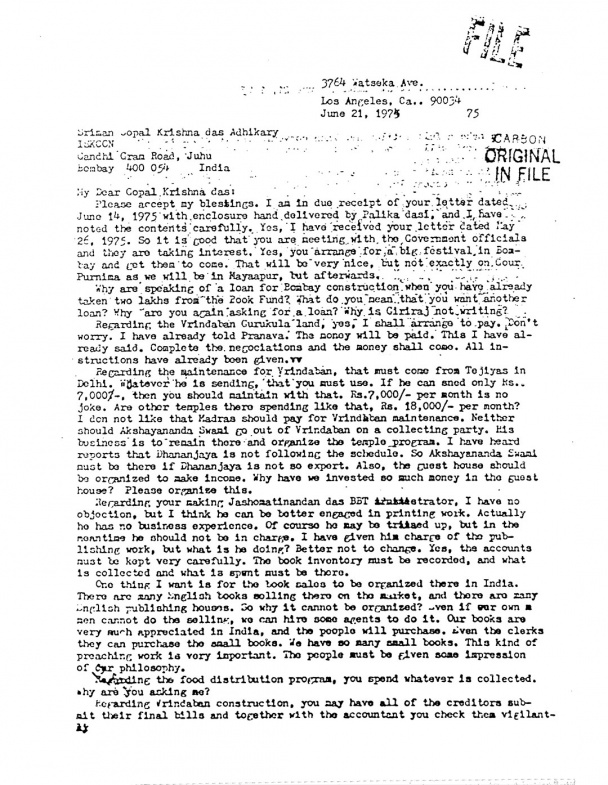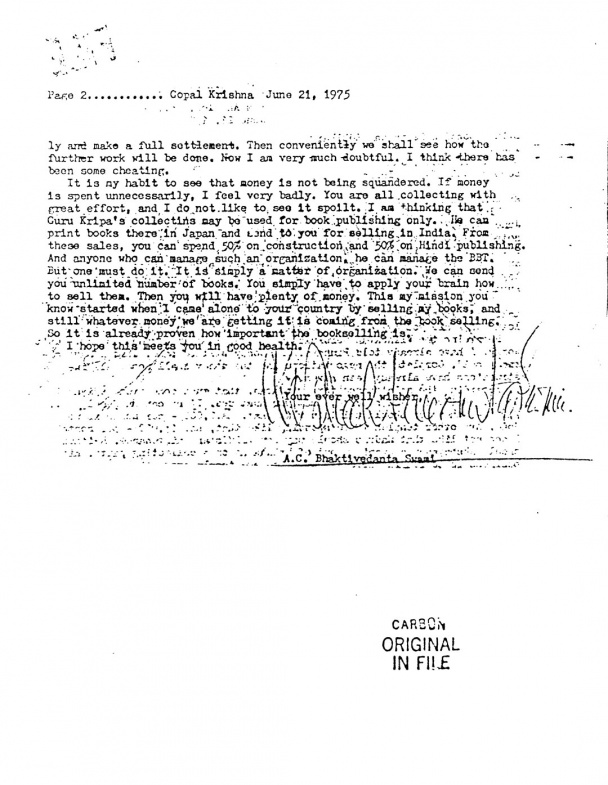 3764 Watseka Ave.
Los Angeles, Ca.. 90034
June 21, 1975         75
Sriman Gopal Krishna das Adhikary
ISKCON
Gandhi Gram Road, Juhu
Bombay 400 054     India
My Dear Gopal Krishna das:
Please accept my blessings. I am in due receipt of your letter dated June 14, 1975 with enclosure hand delivered by Palika dasi, and I have noted the contents carefully. Yes, I have received your letter dated May 26, 1975. So it is good that you are meeting with the Government officials and they are taking interest. Yes, you arrange for a big festival in Bombay and get them to come. That will be very nice, but not exactly on Gour Purnima as we will be in Mayapur, but afterwards.
Why are speaking of a loan for Bombay construction when you have already taken two lakhs from the Book Fund? What do you mean that you want another loan? Why are you again asking for a loan? Why is Giriraja not writing?
Regarding the Vrindaban Gurukula land, yes, I shall arrange to pay. Don't worry. I have already told Pranava. The money will be paid. This I have already said. Complete the negotiations and the money shall come. All instructions have already been given.
Regarding the maintenance for Vrindaban, that must come from Tejiyas in Delhi. Whatever he is sending, that you must use. If he can send only Rs.. 7,000/—, then you should maintain with that. Rs. 7,000/- per month is no joke. Are other temples there spending like that, Rs. 18,000/—per month? I do not like that Madras should pay for Vrindaban maintenance. Neither should Akshayananda Swami go out of Vrindaban on a collecting party. His business is to remain there and organize the temple program. I have heard reports that Dhananjaya is not following the schedule. So Akshayananda Swami must be there if Dhananjaya is not so expert. Also, the guest house should be organized to make income. Why have we invested so much money in the guest house? Please organize this.
Regarding your making Jashomatinandan das BBT administrator, I have no objection, but I think he can be better engaged in printing work. Actually he has no business experience. Of course he may be trained up, but in the meantime he should not be in charge. I have given him charge of the publishing work, but what is he doing? Better not to change. Yes, the accounts must be kept very carefully. The book inventory must be recorded, and what is collected and what is spent must be there.
One thing I want is for the book sales to be organized there in India. There are many English books selling there on the market, and there are many English publishing houses. So why it cannot be organized? Even if our own men cannot do the selling, we can hire some agents to do it. Our books are very much appreciated in India, and the people will purchase. Even the clerks they can purchase the small books. We have so many small books. This kind of preaching work is very important. The people must be given some impression of our philosophy.
Regarding the food distribution program, you spend whatever is collected. Why are you asking me?
Regarding Vrindaban construction, you may have all of the creditors submit their final bills and together with the accountant you check them vigilantly
and make a full settlement. Then conveniently we shall see how the further work will be done. Now I am very much doubtful. I think there has been some cheating.
It is my habit to see that money is not being squandered. If money is spent unnecessarily, I feel very badly. You are all collecting with great effort, and I do not like to see it spoilt. I am thinking that Guru Kripa's collections may be used for book publishing only. He can print books in Japan and send to you for selling in India. From these sales, you can spend 50% on construction and 50% on Hindi publishing. And anyone who can manage such an organization, he can manage the BBT. But one must do it. It is simply a matter of organization. We can send you unlimited number of books. You simply have to apply your brain how to sell them. Then you will have plenty of money. This my mission you know started when I came alone to your country by selling my books, and still whatever money we are getting it is coming from the book selling. So it is already proven how important the book selling is.
I hope this meets you in good health.

A.C. Bhaktivedanta Swami