750717 - Letter to Gopala Krishna written from Berkeley
From Vanisource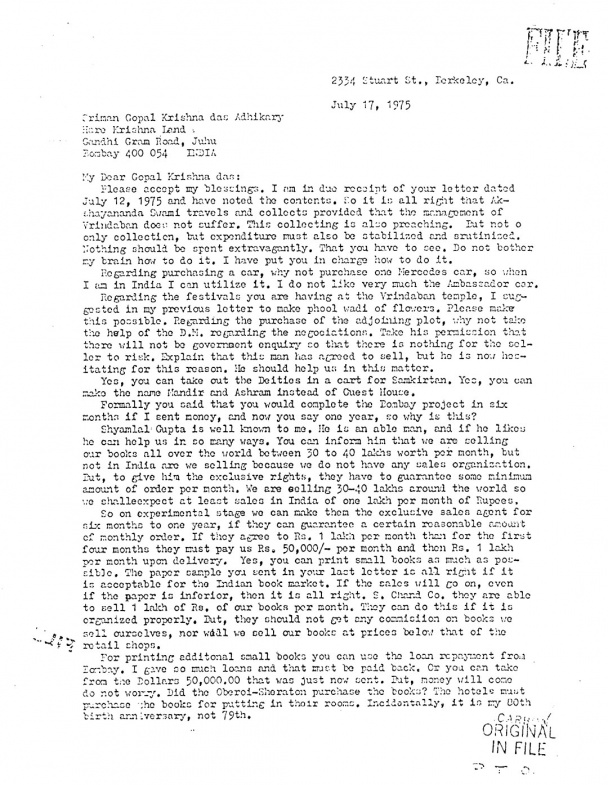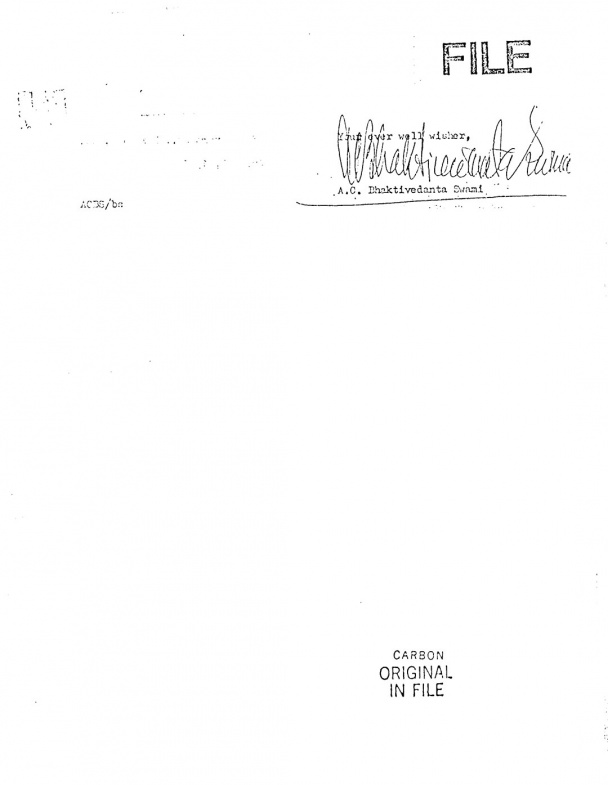 2334 Stuart St., Berkeley, Ca.
July 17, 1975
Sriman Gopal Krishna das Adhikary
Hare Krishna Land
Gandhi Gram Road, Juhu
Bombay 400 054   INDIA
My Dear Gopal Krishna das:
Please accept my blessings. I am in due receipt of your letter dated July 12, 1975 and have noted the contents. So it is all right that Akshayananda Swami travels and collects provided that the management of Vrindaban does not suffer. This collecting is also preaching. But not only collection, but expenditure must also be stabilized and scrutinized. Nothing should be spent extravagantly. That you have to see. Do not bother my brain how to do it. I have put you in charge how to do it.
Regarding purchasing a car, why not purchase one Mercedes car, so when I am in India I can utilize it. I do not like very much the Ambassador car.
Regarding the festivals you are having at the Vrindaban temple, I suggested in my previous letter to make phool wadi of flowers. Please make this possible. Regarding the purchase of the adjoining plot, why not take the help of the D.M. regarding the negotiations. Take his permission that there will not be government enquiry so that there is nothing for the seller to risk. Explain that this man has agreed to sell, but he is now hesitating for this reason. He should help us in this matter.
Yes, you can take out the Deities in a cart for Samkirtan. Yes, you can make the name Mandir and Ashram instead of Guest House.
Formally you said that you would complete the Bombay project in six months if I sent money, and now you say one year, so why is this?
Shyamlal Gupta is well known to me. He is an able man, and if he likes he can help us in so many ways. You can inform him that we are selling our books all over the world between 30 to 40 lakhs worth per month, but not in India are we selling because we do not have any sales organization. But, to give him the exclusive rights, they have to guarantee some minimum amount of order per month. We are selling 30-40 lakhs around the world so we shall expect at least sales in India of one lakh per month of Rupees.
So on experimental stage we can make them the exclusive sales agent for six months to one year, if they can guarantee a certain reasonable amount of monthly order. If they agree to Rs. 1 lakh per month than for the first four months they must pay us Rs. 50,000/- per month and then Rs. 1 lakh per month upon delivery. Yes, you can print small books as much as possible. The paper sample you sent in your last letter is alright if it is acceptable for the Indian book market. If the sales will go on, even if the paper is inferior, then it is alright. S. Chand Co. they are able to sell 1 lakh of Rs. of our books per month. They can do this if it is organized properly. But, they should not get any commission on books we sell ourselves, nor will we sell our books at prices below that of the retail shops.
For printing additional small books you can use the loan repayment from Bombay. I gave so much loans and that must be paid back. Or you can take from the Dollars 50,000.00 that was just now sent. But, money will come do not worry. Did the Oberoi-Sheraton purchase the books? The hotels must purchase the books for putting in their rooms. Incidentally, it is my 80th birth anniversary, not 79th.

Your ever well wisher,



A.C. Bhaktivedanta Swami
ACBS/bs