750803 - Letter to Mahamsa written from Detroit
From Vanisource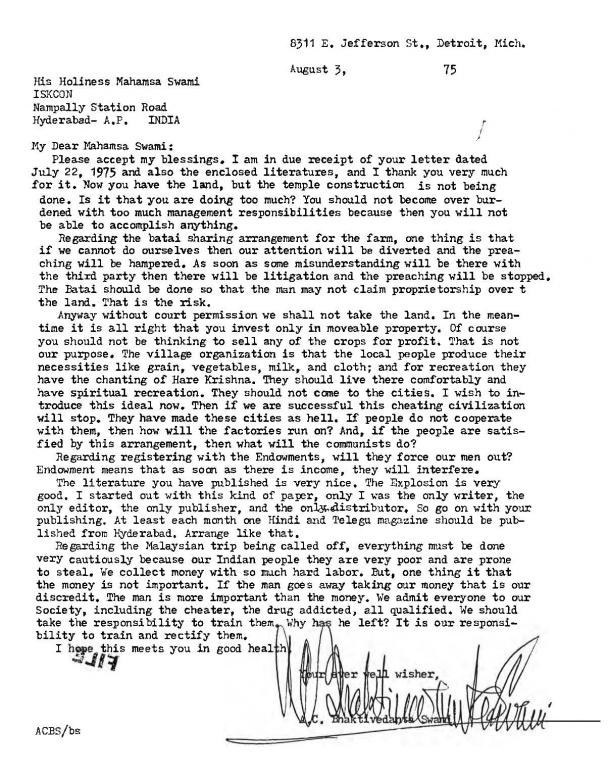 8311 E. Jefferson St., Detroit,Mich.

August 3,                 75
His Holiness Mahamsa Swami
ISKCON
Nampally Station Road
Hyderabad- A.P.   INDIA
My Dear Mahamsa Swami:
Please accept my blessings. I am in due receipt of your letter dated July 22, 1975 and also the enclosed literatures, and I thank you very much for it. Now you have the land, but the temple construction is not being done. Is it that you are doing too much? You should not become over burdened with too much management responsibilities because then you will not be able to accomplish anything.
Regarding the batai sharing arrangement for the farm, one thing is that if we cannot do ourselves then our attention will be diverted and the preaching will be hampered. As soon as some misunderstanding will be there with the third party then there will be litigation and the preaching will be stopped. The Batai should be done so that the man may not claim proprietorship over the land. That is the risk.
Anyway without court permission we shall not take the land. In the meantime it is all right that you invest only in moveable property. Of course you should not be thinking to sell any of the crops for profit. That is not our purpose. The village organization is that the local people produce their necessities like grain, vegetables, milk, and cloth; and for recreation they have the chanting of Hare Krishna. They should live there comfortably and have spiritual recreation. They should not come to the cities. I wish to introduce this ideal now. Then if we are successful this cheating civilization will stop. They have made these cities as hell. If people do not cooperate with them, then how will the factories run on? And, if the people are satisfied by this arrangement, then what will the communists do?
Regarding registering with the Endowments, will they force our men out? Endowment means that as soon as there is income, they will interfere.
The literature you have published is very nice. The Explosion is very good. I started out with this kind of paper, only I was the only writer, the only editor, the only publisher, and the only distributer. So go on with your publishing. At least each month one Hindi and Telegu magazine should be published from Hyderabad. Arrange like that.
Regarding the Malaysian trip being called off, everything must be done very cautiously because our Indian people they are very poor and are prone to steal. We collect money with so much hard labor. But, one thing is that the money is not important. If the man goes away taking our money that is our discredit. The man is more important than the money. We admit everyone to our Society, including the cheater, the drug addicted, all qualified. We should take the responsibility to train them. Why has he left? It is our responsibility to train and rectify them.
I hope this meets you in good health.