750804 - Letter to Giriraja written from Detroit
From Vanisource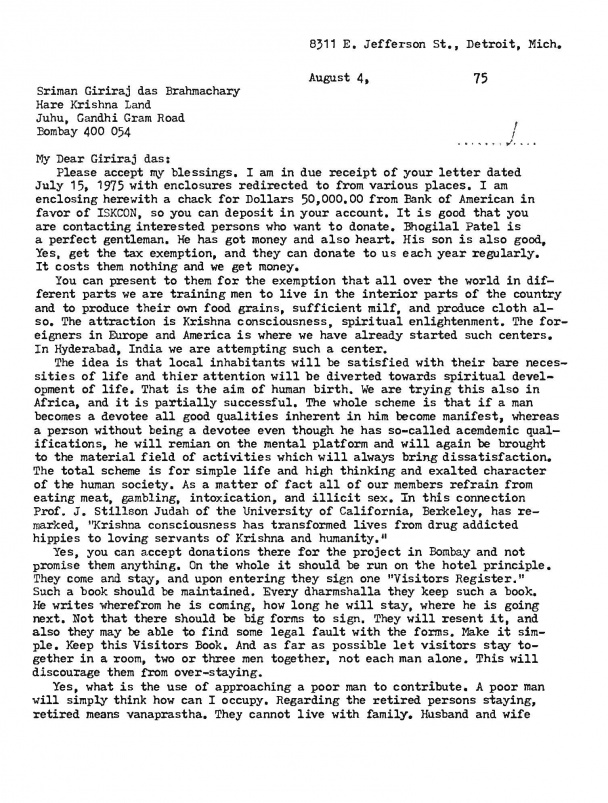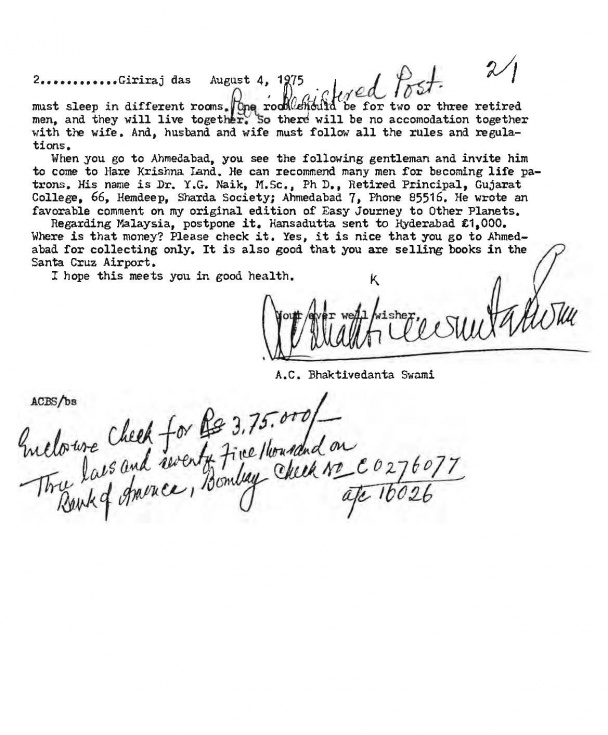 8311 E. Jefferson St., Detroit,Mich.

August 4,                 75
Sriman Giriraj das Brahmachary
Hare Krishna Land
Juhu,Gandhi Gram Road
Bombay 400 054
My Dear Giriraj das:
Please accept my blessings. I am in due receipt of your letter dated July 15, 1975 with enclosures redirected to from various places. I am enclosing herewith a check for Dollars 50,000.00 from Bank of America in favor of ISKCON, so you can deposit in your account. It is good that you are contacting interested persons who want to donate. Bhogilal Patel is a perfect gentleman. He has got money and also heart. His son is also good. Yes, get the tax exemption, and they can donate to us each year regularly. It costs them nothing and we get money.
You can present to them for the exemption that all over the world in different parts we are training men to live in the interior parts of the country and to produce their own food grains, sufficient milk, and produce cloth also. The attraction is Krishna consciousness, spiritual enlightenment. The foreigners in Europe and America is where we have already started such centers. In Hyderabad, India we are attempting such a center.
The idea is that local inhabitants will be satisfied with their bare necessities of life and their attention will be diverted towards spiritual development of life. That is the aim of human birth. We are trying this also in Africa, and it is partially successful. The whole scheme is that if a man becomes a devotee all good qualities inherent in him become manifest, whereas a person without being a devotee even though he has so-called academic qualifications, he will remain on the mental platform and will again be brought to the material field of activities which will always bring dissatisfaction. The total scheme is for simple life and high thinking and exalted character of the human society. As a matter of fact all of our members refrain from eating meat, gambling, intoxication, and illicit sex. In this connection Prof. J. Stillson Judah of the University of California, Berkeley, has remarked, "Krishna consciousness has transformed lives from drug addicted hippies to loving servants of Krishna and humanity."
Yes, you can accept donations there for the project in Bombay and not promise them anything. On the whole it should be run on the hotel principle. They come and stay, and upon entering they sign one "Visitors Register." Such a book should be maintained. Every dharmasala they keep such a book. He writes wherefrom he is coming, how long he will stay, where he is going next. Not that there should be big forms to sign. They will resent it, and also they may be able to find some legal fault with the forms. Make it simple. Keep this Visitors Book. And as far as possible let visitors stay together in a room, two or three men together, not each man alone. This will discourage them from over-staying.
Yes, what is the use of approaching a poor man to contribute. A poor man will simply think how can I occupy. Regarding the retired persons staying, retired means vanaprastha. They cannot live with family. Husband and wife

2........ Giriraj Das   August 4,1975
Per Regisered Post.     21 [handwritten]
must sleep in different rooms. One room should be for two or three retired men, and they will live together. So there will be no accommodation together with the wife. And, husband and wife must follow all the rules and regulations.
When you go to Ahmedabad, you see the following gentleman and invite him to come to Hare Krishna Land. He can recommend many men for becoming life patrons. His name is Dr. Y. G. Naik, N.Sc., Ph D., Retired Principal, Gujarat College, 66, Hemdeep, Sharda Society; Ahmedabad 7, Phone 85516. He wrote an favorable comment on my original edition of Easy Journey to Other Planets.
Regarding Malaysia, postpone it. Hansadutta sent to Hyderabad ₤1,000. Where is that money? Please check it. Yes, it is nice that you go to Ahmedabad for collecting only. It is also good that you are selling books in the Santa Cruz Airport.
I hope this meets you in good health.
A.C. Bhaktivedanta Swami
ACBS/bs
Enclosure check for Rs. 3,75,000/- three lacs and seventy five thousand on Bank of America, Bombay check no. 60276077 a/c 16026 [handwritten]