750824 - Letter to Certification (for Jayapataka) written from Vrndavana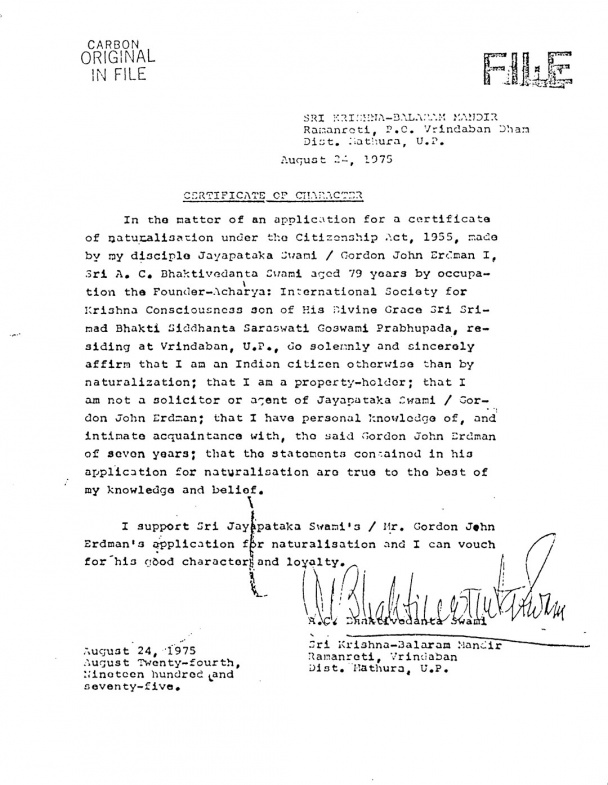 SRI KRISHNA-BALARAM MANDIR
Ramanreti, P.O. Vrindaban Dham
Dist. Mathura, U.P.
August 24, 1975

CERTIFICATE OF CHARACTER
In the matter of an application for a certificate of naturalisation under the Citizenship Act, 1955, made by my disciple Jayapataka Swami/ Gordon John Erdman I, Sri A.C. Bhaktivedanta Swami aged 79 years by occupation the Founder-Acarya: International Society for Krishna Consciousness son of His Divine Grace Sri Srimad Bhaktisiddhanta Sarasvati Goswami Prabhupada, residing at Vrindaban, U.P., do solemnly and sincerely affirm that I am an Indian citizen otherwise then by naturalization; that I am a property-holder; that I am not a solicitor or agent of Jayapataka Swami/ Gordon John Erdman; that I have personal knowledge of, and intimate acquaintance with, the said Gordon John Erdman of seven years; that the statements contained in his application for naturalization are true to the best of my knowledge and belief.

I support Sri Jayapataka Swami's / Mr. Gordon John Erdman's application for naturalisation and I can vouch for his good character and loyalty.



A.C. Bhaktivedanta Swami
Sri Krishna-Balaram Mandir
Ramanreti, Vrindaban
Dist. Mathura, U.P.
August 24,   1975
August Twenty-fourth,
Nineteen hundred and
seventy-five.