750826 - Letter to Jagannatha-suta written from Vrndavana
From Vanisource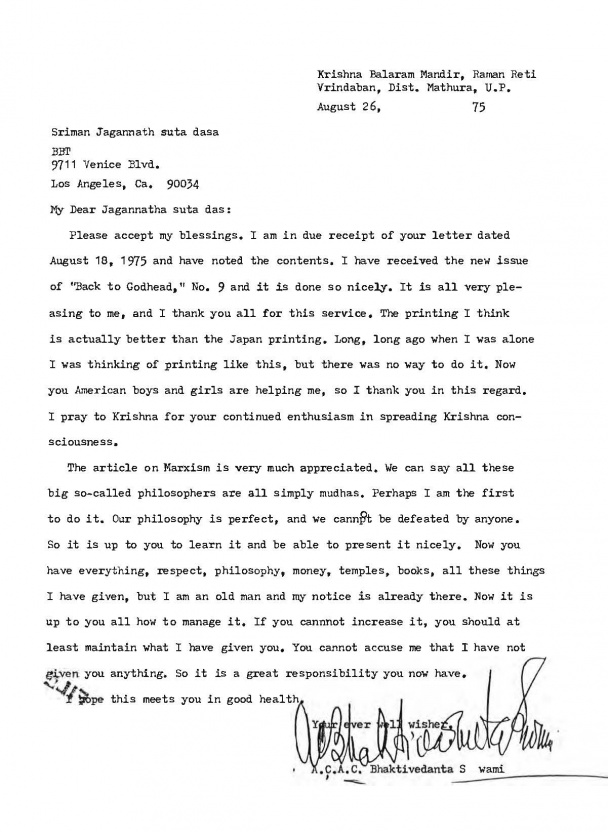 Krishna Balaram Mandir, Raman Reti
Vrindaban, Dist. Mathura, U.P.
August 26,                   75

Sriman Jagannath suta dasa
BBT
9711 Venice Blvd.
Los Angeles, Ca.   90034
My Dear Jagannatha Suta das:
Please accept my blessings. I am in due receipt of your letter dated August 18, 1975 and have noted the contents. I have received the new issue of "Back to Godhead," No. 9 and it is done so nicely. It is all very pleasing to me, and I thank you all for this service. The printing I think is actually better than the Japan printing. Long, long ago when I was alone I was thinking of printing like this, but there was no way to do it. Now you American boys and girls are helping me, so I thank you in this regard. I pray to Krishna for your continued enthusiasm in spreading Krishna consciousness.
The article on Marxism is very much appreciated. We can say all these big so-called philosophers are all simply mudhas. Perhaps I am the first to do it. Our philosophy is perfect, and we cannot be defeated by anyone. So it is up to you to learn it and be able to present it nicely. Now you have everything, respect, philosophy, money, temples, books, all these things I have given, but I am an old man and my notice is already there. Now it is up to you all how to manage it. If you cannot increase it, you should at least maintain what I have given you. You cannot accuse me that I have not given you anything. So it is a great responsibility you now have.
I hope this meets you in good health.