750911 - Letter to Giriraja written from Vrndavana
From Vanisource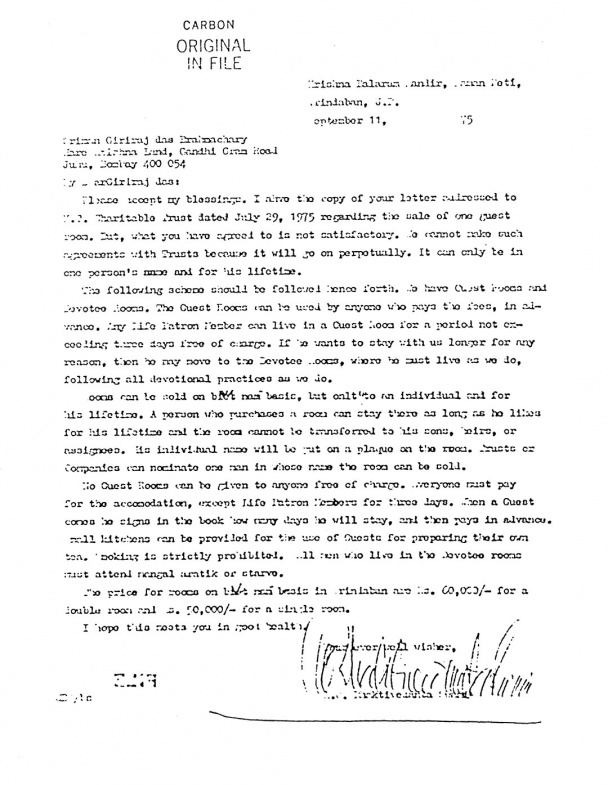 Krishna Balaram Mandir, Raman Reti,
Vrindaban, U.P.
September 11,               75

Sriman Giriraj das Brajmachary
Hare Krishna Land, Gandhi Gram Road
Juhu, Bombay 400 054
My Dear Giriraj das:
Please accept my blessings. I have the copy of your letter addressed to K.T. Charitable Trust dated July 29, 1975 regarding the sale of one guest room. But, what you have agreed to is not satisfactory. We cannot make such agreements with Trusts because it will go on perpetually. It can only be in one person's name and for his lifetime.
The following scheme should be followed hence forth. We have Guest Rooms and Devotee Rooms. The Guest Rooms can be used by anyone who pays the fees, in advance. Any Life Patron Member can live in a Guest room for a period not exceeding three days free of charge. If he wants to stay with us longer for any reason, then he may move to the Devotee Rooms, where he must live as we do, following all devotional practices as we do.
Rooms can be sold on bhetnam basis, but only to an individual and for his lifetime. A person who purchases a room can stay there as long as he likes for his lifetime and the room cannot be transferred to his sons, heirs, or assignees. His individual name will be put on a plaque on the room. Trust or Companies can nominate one man in whose name the room can be sold.
No Guest Rooms can be given to anyone free of charge. Everyone must pay for the accommodation, except Life Patron Members for three days. When a Guest comes he signs in the book how many days he will stay, and then pays in advance. Small kitchens can be provided for the use of Guests for preparing their own tea. Smoking is strictly prohibited. All men who live in the Devotee rooms must attend mangal arati or starve.
The price for rooms on bhetnam basis in Vrindaban are Rs. 60,000/- for a double room and Rs. 50,000/- for a single room.
I hope this meets you in good health.