750915 - Letter to Ramesvara written from Vrndavana
From Vanisource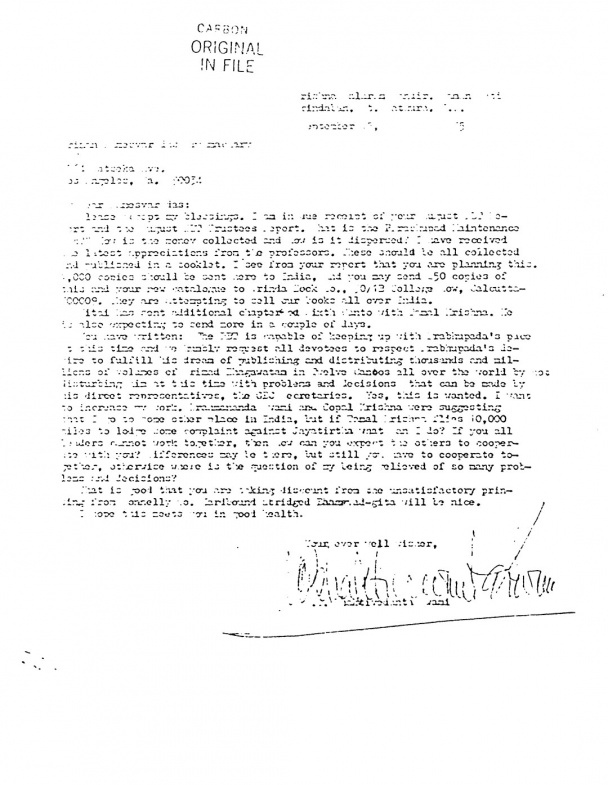 Krishna Balaram Mandir, Raman Reti
Vrindaban, Dt. Mathura, U.P.
September 17,               75

Sriram rameshvar das Adhikary
3764 Watseka Avenue
Los Angeles, Ca. 90034
My Dear Ramesvar das:
Please accept my blessings. I am in due receipt of your August BBT Report and the August BBT Trustees Report. What is the Prabhupada Maintenance a/c? How is the money collected and how is it dispersed? I have received the latest appreciations from the professors. These should be all collected and published in a booklet. I see from your report that you are planning this. 1,000 copies should be sent here to India, and you may send 250 copies of this and your new catalogue to Vrinda Book Co., 30/1B College Row, Calcutta-700009. They are attempting to sell our books all over India.
Nitai has sent additional chapters of Sixth Canto with Tamal Krishna. He is also expecting to send more in a couple of days.
You have written: "The BBT is capable of keeping up with Prabhupada's pace at this time and we humbly request all devotees to respect Prabhupada's desire to fulfill his dreams of publishing and distributing thousands and millions of volumes of Srimad-Bhagawatam in Twelve Cantos all over the world by not disturbing him at this time with problems and decisions that can be made by his direct representatives, the GBC Secretaries." Yes, this is wanted. I want to increase my work. Brahmananda Swami and Gopal Krishna were suggesting that I go to some other place in India, but if Tamal Krishna flies 10,000 miles to lodge some complaint against Jayatirtha what can I do? If you all leaders cannot work together, then how can you expect the others to cooperate with you? Differences may be there, but still you have to cooperate together, otherwise where is the question of my being relieved of so many problems and decisions?
That is good that you are taking discount from the unsatisfactory printing from Donnelly Co. Hardbound abridged Bhagawad-gita will be nice.
I hope this meets you in good health.