751016 - Letter to Jayatirtha written from Johannesburg
From Vanisource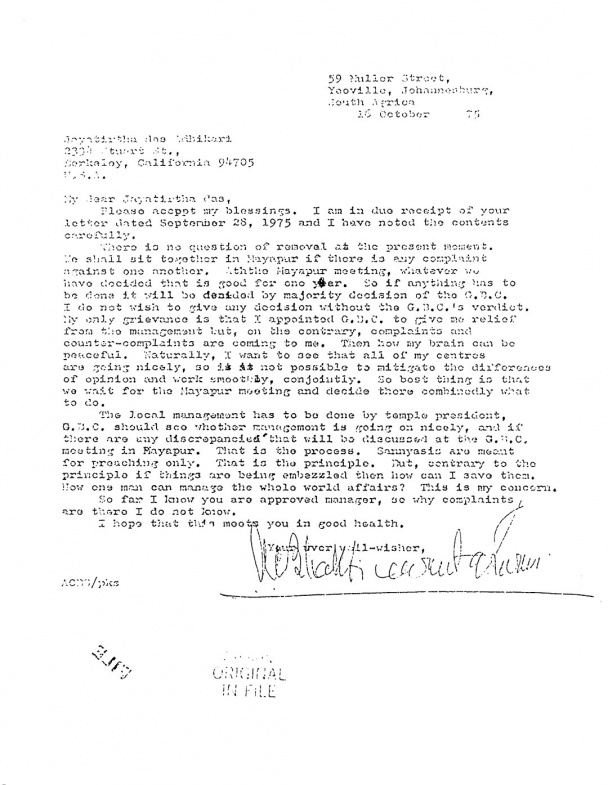 59 Muller Street,
Yeoville, Johannesburg,
South Africa
16 October       75

Jayatirtha das Adhikari
2334 Stuart St.,
Berkeley, California 94705
U.S.A.
My dear Jayatirtha das,
Please accept my blessings. I am in due receipt of your letter dated September 28, 1975 and I have noted the contents carefully.
There is no question of removal at the present moment. We shall sit together in Mayapur if there is any complaint against one another. At the Mayapur meeting, whatever we have decided that is good for one year. So if anything has to be done it will be decided by majority decision of the G.B.C. I do not wish to give any decision without the G.B.C.'s verdict. My only grievance is that I appointed G.B.C. to give me relief from the management but, on the contrary, complaints and counter-complaints are coming to me. Then how my brain can be peaceful. Naturally, I want to see that all of my centres are going nicely, so is it not possible to mitigate the differences of opinion and work smoothly, conjointly. So best thing is that we wait for the Mayapur meeting and decide there combinedly what to do.
The local management has to be done by temple president, G.B.C. should see whether management is going on nicely, and if there are any discrepancies that will be discussed at the G.B.C. meeting in Mayapur. That is the process. Sannyasis are meant for preaching only. That is the principle. But, contrary to the principle if things are being embezzled then how can I save them. How one man can manage the whole world affairs? This is my concern.
So far I know you are approved manager, so why complaints are there I do not know.
I hope that this meets you in good health.