751019 - Letter to Kartikeya K. Mahadevia written from Johannesburg
From Vanisource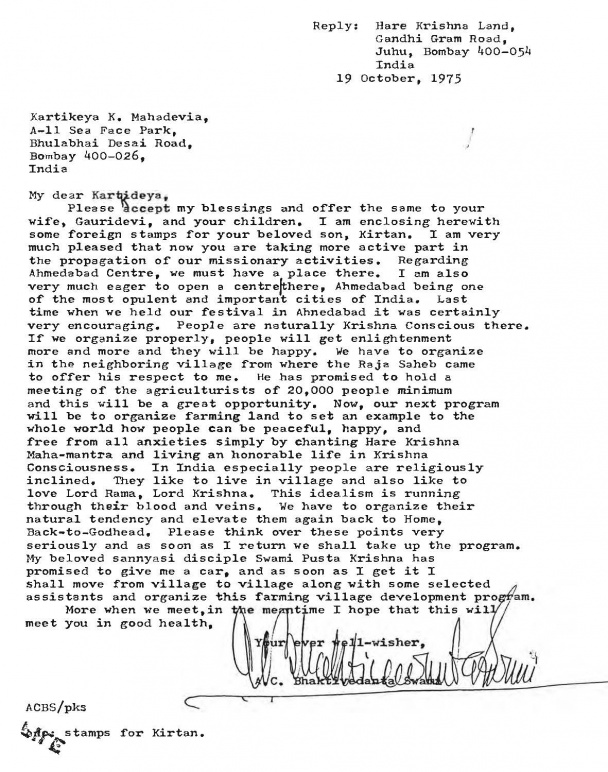 Reply:   Hare Krishna Land,
Gandhi Gram Road,
Juhu, Bombay 400-054
India
19 October, 1975


Kartikeya K. Mahadevia,
A-11 Sea Face Park,
Bhulabhai Desai Road,
Bombay 400-026,
India

My dear Kartikeya,
Please accept my blessings and offer the same to your wife, Gauridevi, and your children. I am enclosing herewith some foreign stamps for your beloved son, Kirtan. I am very much pleased that now you are taking more active part in the propagation of our missionary activities. Regarding Ahmedabad Centre, we must have a place there. I am also very much eager to open a centre there, Ahmedabad being one of the most opulent and important cities of India. Last time when we held our festival in Ahmedabad it was certainly very encouraging. People are naturally Krishna Conscious there. If we organize properly, people will get enlightenment more and more and they will be happy. We have to organize in the neighboring village from where the Raja Saheb came to offer his respect to me. He has promised to hold a meeting of the agriculturists of 20,000 people minimum and this will be a great opportunity. Now, our next program will be to organize farming land to set an example to the whole world how people can be peaceful, happy, and free from all anxieties simply by chanting Hare Krishna Maha-mantra and living an honorable life in Krishna Consciousness. In India especially people are religiously inclined. They like to live in village and also like to love Lord Rama, Lord Krishna. This idealism is running through their blood and veins. We have to organize their natural tendency and elevate them again back to Home, Back-to-Godhead. Please think over these points very seriously and as soon as I return we shall take up the program. My beloved sannyasi disciple Swami Pusta Krishna has promised to give me a car, and as soon as I get it I shall move from village to village along with some selected assistants and organize this farming village development program.
More when we meet, in the meantime I hope that this will meet you in good health.
Your ever well-wisher,



A.C. Bhaktivedanta Swami

ACBS/pks
enc: stamps for Kirtan.