751121 - Letter to Acyutananda and Yasodanandana written from Bombay
From Vanisource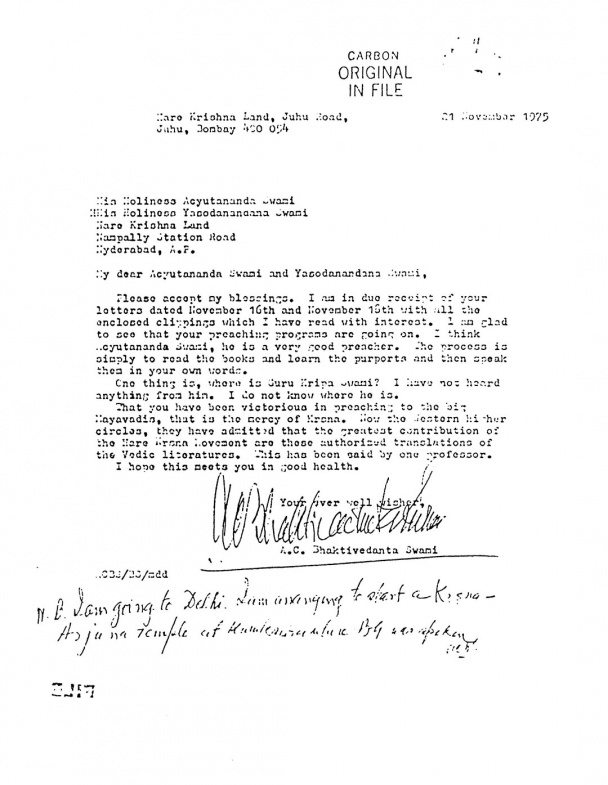 21 November 1975
Hare Krishna Land, Juhu Road,
Juhu, Bombay 400 054



His Holiness Acyutananda Swami
His Holiness Yasodanandana Swami
Hare Krishna Land
Nampally Station Road
Hyderabad, A.P.
My dear Acyutananda Swami and Yasodanandana Swami,
Please accept my blessings. I am in due receipt of your letters dated November 16th and November 18th with all the enclosed clippings which I have read with interest. I am glad to see that your preaching programs are going on. I think Acyutananda Swami, he is a very good preacher. The process is simply to read the books and learn the purports and then speak to them in your own words.
One thing is, where is Guru Kripa Swami? I have not heard anything from him. I do not know where he is.
That you have been victorious in preaching to the big Mayavadis, that is the mercy of Krsna. Now the Western higher circles, they have admitted that the greatest contribution of the Hare Krsna Movement are these authorized translations of the Vedic literatures. This has been said by one professor.
I hope this meets you in good health.

Your ever well wisher,



A.C. Bhaktivedanta Swami
ACBS/BS/mdd
N.B. I am going to Delhi. I am arranging to start a Krsna-Arjuna temple at Kuruksetra where B.G. was spoken.
[handwritten] ACBS. [handwritten]