751123 - Letter to Cyavana written from Bombay
From Vanisource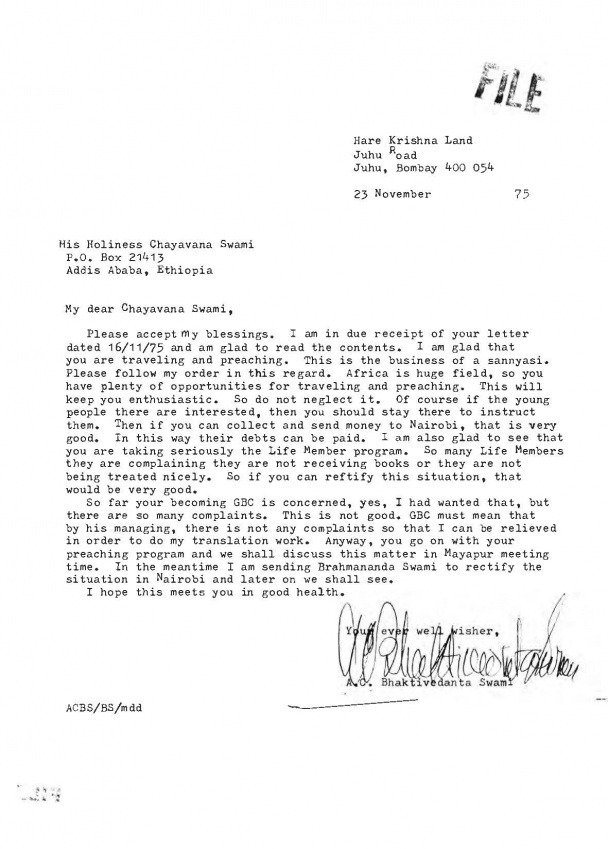 Hare Krishna Land
Juhu Road
Juhu ,Bombay 400 054
23 November             75



His Holiness Chayavana Swami
P.O. Box 21413
Addis Ababa, Ethiopia

My dear Cyavana Swami,
Please accept my blessings. I am in due receipt of your letter dated 16/11/75 and am glad to read the contents. I am glad that you are traveling and preaching. This is the business of a sannyasi. Please follow my order in this regard. Africa is huge field, so you have plenty of opportunities for traveling and preaching. This will keep you enthusiastic. So do not neglect it. Of course if the young people there are interested, then you should stay there to instruct them. Then if you can collect and send money to Nairobi, that is very good. In this way their debts can be paid. I am also glad to see that you are taking seriously the Life Member program. So many Life Members they are complaining they are not receiving books or they are not being treated nicely. So if you can rectify this situation, that would be very good.
So far your becoming GBC is concerned, yes, I had wanted that, but there are so many complaints. This is not good. GBC must mean that by his managing, there is not any complaints so that I can be relieved in order to do my translation work. Anyway, you go on with your preaching program and we shall discuss this matter in Mayapur meeting time. In the meantime I am sending Brahmananda Swami to rectify the situation in Nairobi and later on we shall see.
I hope this meets you in good health.

Your ever well wisher,



A.C. Bhaktivedanta Swami
ACBS/BS/mdd