760104 - Letter to Hrdayananda written from Nellore
From Vanisource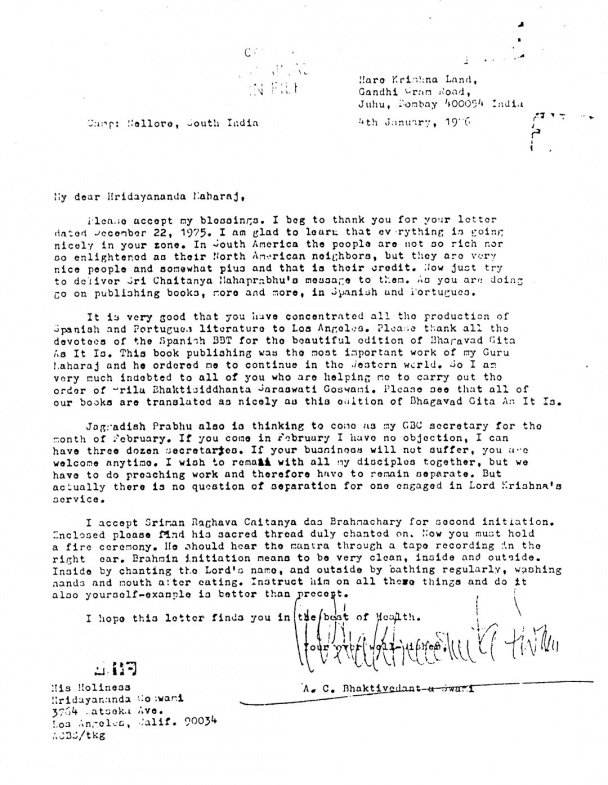 Hare Krishna Land,
Gandhi Gram Road,
Juhu, Bombay 400054 India
4th January, 1976
Camp: Nellore, South India

My dear Hridayananda Maharaj,
Please accept my blessings. I beg to thank you for your letter dated December 22, 1975. I am glad to learn that everything is going nicely in your zone. In South America the people are not so rich nor so enlightened as their North American neighbors, but they are very nice people and somewhat pious and that is their credit. Now just try to deliver Sri Caitanya Mahaprabhu's message to them. As you are doing go on publishing books, more and more, in Spanish and Portuguese.
It is very good that you have concentrated all the production of Spanish and Portuguese literature to Los Angeles. Please thank all the devotees of the Spanish BBT for the beautiful edition of Bhagavad-gita As It Is. This book publishing was the most important work of my Guru Maharaj and he ordered me to continue in the Western world. So I am very much indebted to all of you who are helping me to carry out the order of Srila Bhaktisiddhanta Saraswati Goswami. Please see that all of our books are translated as nicely as this edition of Bhagavad-gita As It Is.
Jagadish Prabhu also is thinking to come as my GBC secretary for the month of February. If you come in February I have no objection, I can have three dozen secretaries. If your business will not suffer, you are welcome anytime. I wish to remain with all my disciples together, but we have to do preaching work and therefore have to remain separate. But actually there is no question of separation for one engaged in Lord Krishna's service.
I accept Sriman Raghava Caitanya das Brahmachary for second initiation. Enclosed please find his sacred thread duly chanted on. Now you must hold a fire ceremony. He should hear the mantra through a tape recording in the right ear. Brahmin initiation means to be very clean, inside and outside. Inside by chanting the Lord's name, and outside by bathing regularly, washing hands and mouth after eating. Instruct him on all these things and do it also yourself-example is better than precept.
I hope this letter finds you in the best of health.
Your ever well-wisher,



A.C. Bhaktivedanta Swami

His Holiness
Hridayananda Goswami
3764 Watseka Ave.
Los Angeles, Calif. 90034
ACBS/tkg