760407 - Letter to Vrndavana Chandra De written from Vrndavana
From Vanisource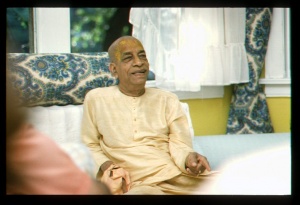 April 07, 1976

Sriman Vrindaban Chandra De,
Vrinda Book Co.,
30/1B, College Row,
Calcutta-700-009,
W. Bengal
Krishna Balaram Mandir,
Chattikara Road, Raman Reti,
Vrindaban, Dist, Mathura, U.P.

My dear Vrindaban,
Please accept my blessings. I am in due receipt of your letter dated March 27, 1976 and I have noted the contents with care. I am sure that the Fixed Deposit Receipt itself is there with the Punjab National Bank because I have their letter of acknowledgement which is lying in Bombay. So you can see them immediately and show my letter confirming that F.D.R. is there with them.
I am also very much anxious to know how much business you are doing on the matter of the Bhaktivedanta Book Trust. I have already assured you that you will get in advance your money for propaganda work, but you must give me order for at least double the amount you take advance. I am leaving for Bombay the 11th April, 1976 and then for Australia on the 18th April, so between this time if you come to see me in Bombay I can give you all suggestions how to organize business.
The passbook may be kept with you and when you come to Bombay, bring it with you. There is no need of sending it by post, but keep it carefully. If you can secure good business, then I'll give you facility for opening a branch of your book company in Bombay so that facilities for supply both inward and outward can be very easily done. I have sent you a bunch of keys to your apartment and I hope that you have already received it.
Hoping that this meets you in good health.
Your ever well-wisher,
A.C. Bhaktivedanta Swami
ACBS/pks