760505 - Letter to Manager of Central Bank of India written from Honolulu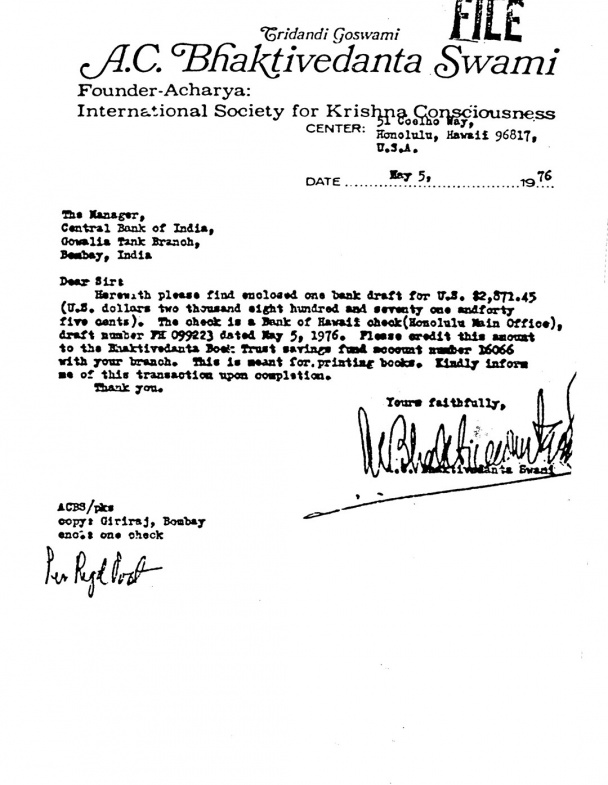 Tridandi Goswami
A.C. Bhaktivedanta Swami
Founder-Acharya:
International Society for Krishna Consciousness

CENTER: 51 Coelho Way,
Honolulu, Hawaii, 96817,
U.S.A.
Date May 5, 1976

The Manager,
Central Bank of India,
Gowalia Tank Branch,
Bombay, India
Dear Sir:
Herewith please find enclosed one bank draft for U.S. $2,871.45 (U.S. dollars two thousand eight hundred and seventy one and forty five cents). The check is a Bank of Hawaii check (Honolulu Main Office), draft number FH 099223 dated May 5, 1976. Please credit this amount to the Bhaktivedanta Book Trust savings fund account number 16066 with your branch. This is meant for printing books. Kindly inform me of this transaction upon completion.
Thank you.
Yours faithfully,



A.C. Bhaktivedanta Swami
ACBS/pks
Copy: Giriraj, Bombay
enc.: One Check
[handwritten] [unclear]