760520 - Letter to Saurabha written from Honolulu
From Vanisource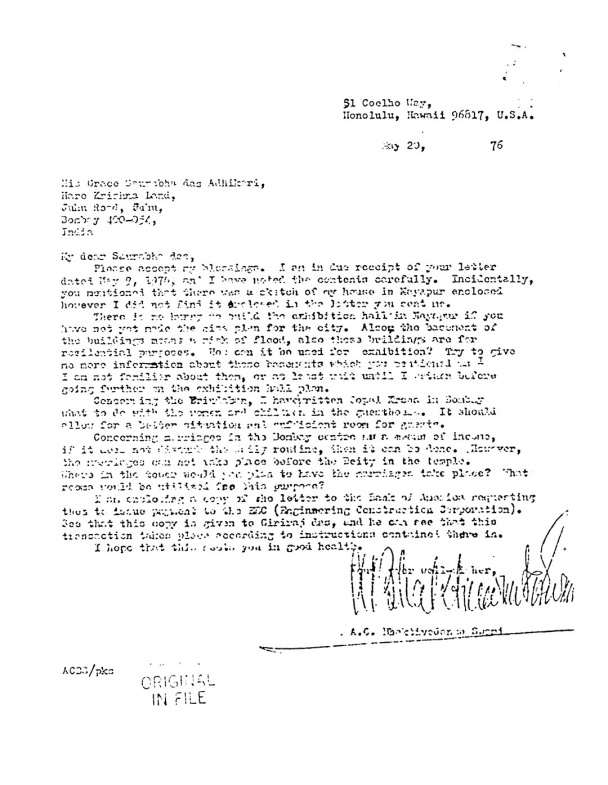 51 Coolho Way.
Honolulu, Hawaii 96817, U.S.A.

May 20,      76

His Grace Saurabha das Adhikari,
Hare Krishna Land,
Juhu Road, Juhu,
Bombay 400-054,
India

My dear Saurabha das,

Please accept my blessings. I am in due receipt of your letter dated May 9, 1976, and I have noted the contents carefully. Incidentally, you mentioned that there was a sketch of my house in Mayapur enclosed however I did not find it enclosed in the letter you sent me.
There is no hurry to build the exhibition hall in Mayapur if you have not yet made the site plan for the city. Also, the basement of the buildings means a risk of flood, also these buildings are for residential purposes. How can it be used for exhibition? Try to give me more information about these basements which you mentioned as I am not familiar about them, or at least wait until I return before going further on the exhibition hall plan.
Concerning the Vrindaban, I have written Gopala Krishna in Bombay what to do with the women and children in the guesthouse. It should allow for a better situation and sufficient room for guests.
Concerning marriages in the Bombay centre as a means of income, if it does not disturb the daily routine, then it can be done. However, the marriages can not take place before the Deity in the temple. Where in the tower would you plan to have the marriages take place? What rooms would be utilized for this purpose?
I am enclosing a copy of the letter to the Bank of America requesting them to issue payment to the ECC (Engineering Construction Corporation). See that this copy is given to Giriraja das, and he can see that this transaction takes place according to instructions contained therein.
I hope that this meets you in good health.


Your ever well-wisher



A.C. Bhaktivedanta Swami
ACBS/pks