761221 - Letter to Tusta Krsna written from Bombay
From Vanisource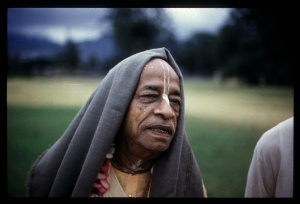 December 21, 76
Hare Krishna Land
Juhu Road,
Juhu, Bombay 400 054 India
My dear Tusta Krsna Maharaj:
Please accept my blessings.
I beg to acknowledge receipt of your letter dated 30th November, 1976, and have noted the contents with care. The approaching cold weather is not bothering me too much because I am presently in Bombay and sitting in the sun. Although I am not very good, this place at Juhu is very pleasing. Actually you were the first to speak of this Bombay land. Mr. Nair is dead and gone but we are here and are constructing a magnificent temple. You present yourself as dishonest and cripple-minded, but no, you are a devotee and have rendered service to Krishna. Therefore Krishna will protect you. But willfully we should not disobey the Guru and Krishna:
yasya deve para bhaktir yatha dehe tatha gurav
tas yaite kathita hy arthah prakasante mahatmanah
"Only [to] those great souls who have implicit faith in both the Lord and the spiritual master are all the imports of Vedic knowledge automatically revealed".
This is the secret. We must develop our love and faith in the Guru and Krishna.
Brahmanda bhramite kona bhagyavan jiva
guru krsna prasade paya bhakti lata bija
"According to their karma, all living entities are wandering throughout the entire universe. Some of them are being elevated to the upper planetary systems and some are going down into the lower planetary systems. Out of many millions of wandering living entities, one who is very fortunate gets an opportunity to associate with a bona fide spiritual master by the grace of Krsna. By the mercy of both Krsna and the spiritual master, such a person receives the seed of the creeper of devotional service".
It is very nice that you have laid the cornerstone on the anniversary day of Lord Sri Rama's victory over Ravana, known as Vijaydasami. Develop this project very nicely. It does not matter if it is delayed but do something wonderful as we are doing in Bombay.
It is very good that you are concentrating your energies on increasing Sankirtan. Sankirtan is our life and soul.
On the farm project you should try to become self-sufficient in food grains, milk, vegetables and so on. You may live very nicely, be healthy, and chant 'Hare Krishna'. You do yourself, and teach others. That is success. We have full facility there for plain living and high thinking. We do not very much appreciate city life which is full of so many obnoxious things. It is very good that you are not keeping machines this year. Try to avoid machines as far as possible.
May this letter find you in good health and jolly spirits.
Your ever well-wisher,
A.C. Bhaktivedanta Swami
His Holiness Tusta Krsna Swami
Box 82
Mairangi Bay,
Auckland, New Zealand
ACBS/gdb