770213 - Letter to Sivaram written from Mayapur
From Vanisource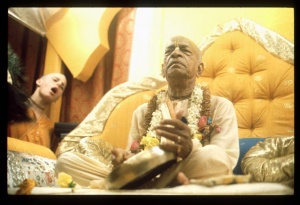 February 13, 1977

Sriman Sivaram das Brahmachary
ISKCON 216 Ridgewood Avenue
Minneapolis, Minn. USA 55403
Sree Dham Mayapur
Dist Nadia, West Bengal India

Dear Sivaram,
Please accept my blessings. I have received your report of January 18th and heard the contents.
Regarding the persons who are opposing you in Minneapolis, we have to go on with our duty. This so called Christian says we are not a true religion and is opposing us because we have a different belief than his - but actually God is one. There cannot be two Gods, or a God of the Hindus, God of the Muslim, God of the Christian. Don't remain silent, but answer back in this way. Positively present our philosophy.
They are misrepresenting us. We do not say one cannot be a Christian. We say be faithful to God. What is wrong in that? If one is a devotee of God, someone cannot argue against that. Just as gold is gold in anyone's hand. If a Hindu holds gold it is not Hindu gold, or Muslim gold. Gold is gold. We are preaching God consciousness. Love for God is equally applicable for all sects. Why should there be opposition?
And because we are scientifically presenting love of God, we have 84 books published - this is unique in the world. No one can speak so scientifically in so many books. We have thorough, perfect knowledge while others have only a vague idea or only sentiment. Therefore others should not oppose us but should cooperate and learn about God from us. In this way make a positive presentation in the media and go on with your regular preaching program, chanting, distributing prasadam and distributing books.
Your ever well-wisher,
A.C. Bhaktivedanta Swami
ACBS/sdg