770313 - Letter to Bhagavat Asraya written from Mayapur
From Vanisource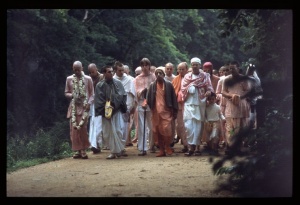 March 13, 1977

New Delhi
My dear Bhagavat Asraya,
Please accept my blessings. I have read your letter dated 8th March, 1977.
On your recommendation, I accept Sriman Rabindranatha Dasa, Sriman Mahabhuj Dasa, and Matachandra Libha for second initiation. The sacred threads for the men duly chanted on by me are enclosed. I also accept Bhakta Richard for first initiation and his name is now Ripughna dasa.
Now you may perform the Agnihotra on Rama Navami as you have proposed. The first initiate should vow to always follow the regulative principles and chant at least sixteen rounds daily. The brahmanas should be explained the qualities of brahminical life and be allowed to hear the gayatri tape in the right ear after the ceremony. The best way to instruct the initiates is by your own good example.
I hope this meets you in the best of health.
Your ever well-wisher,
A.C. Bhaktivedanta Swami