770413 - Letter to Mahamsa and Tejiyas written from Bombay
From Vanisource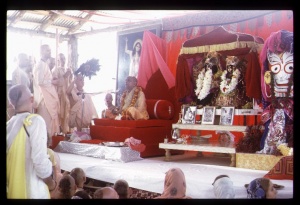 13th April, 1977
Hare Krishna Land,
Juhu Road,
Juhu, Bombay 400 054

My dear Mahamsa and Tejiyas,
Please accept my blessings. I beg to thank you for your letter dated 9th April, 1977, and I have noted the contents.
As I have promised you, I am ready to help develop our Hyderabad farm. But you must see that everything is managed properly. Regarding your request for Rs. 75,000/-, from your list it can be understood that most of the items are fixed deposits, namely: construction, wells, borings, field construction, pump, fencing, land leveling. These items will serve you for the forth-coming years and I can give you a loan for them but you should pay me back over a period of time either in cash or in crops like rice or wheat. The stamp duty I will pay for. Please write me that you are willing to accept this loan. In the meantime I have advised the bank to transfer Rs. 75,000/- so that your work will not be delayed.
By calculation, one acre of land in the Hyderabad area should yield a minimum of 20 mounds. A mound is equal to 20 kilos. So whether you grow rice or wheat in either case a kilo sells for Rs. 1/-. If you can cultivate 50 acres then you should get crops worth Rs. 20,000/-. Two crops can be growing in a year, rice can be grown from June to October as you are planning, and wheat can also be grown afterwards. So from just this 50 acres you can realize at least Rs. 40,000/- per year in crops. This is certainly beyond your own needs. In Mayapur and Vrndavana we require these, as also we do in Bombay, so whether you supply me rice or wheat or cash, somehow or other you must pay me back this loan.
I hope this meets you both in the best of health.
Your ever well-wisher,
A.C. Bhaktivedanta Swami
His Holiness Mahamsa Swami and Tejiyas das Adhikari
c/o ISKCON Hyderabad
ACBS/tkg