770417 - Letter to Ramesvara written from Bombay
From Vanisource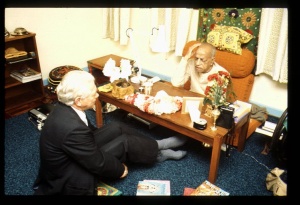 April 17, 1977

My Dear Ramesvara,
Please accept my blessings. I beg to thank you for your letter dated March 26, 1977. Thank you very much for the Guru Daksina.
Why not hold the Rathayatra on Janmastami? It comes at about the same time as you are planning and it will be very much appreciated. For Gaura-Nitai alone, Rathayatra is not at all recommended because They are playing the part of devotees. But as you are having three large carts you may arrange the following: Sri Sri Gaura-Nitai in the first ratha, Sri Sri Radha-Krsna in the second ratha and Sri Jagannatha, Balarama and Subhadra in the third ratha. I have received a letter from Caru dasa from Berkeley. He is worried that due to your Rathayatra no devotees will attend the San Francisco Jagannatha festival. This must not happen. Due to competition one program should not be diminished for another. San Francisco Jagannatha festival is established for many years, and it must be maintained and increased in the same grand style. As far as possible all of the devotees should attend it, as has been done in the previous years. You may also hold Rathayatra as described above in Los Angeles. In this way both festivals can be performed very grandly.
Thank you for your prayers for my good health. Do not worry, I am working at night, a couple of hours, although I am not quite fit.
I hope this meets you in best of health.
Your ever well-wisher,
A.C. Bhaktivedanta Swami