770507 - Letter to Manager of Punjab National Bank written from Bombay
From Vanisource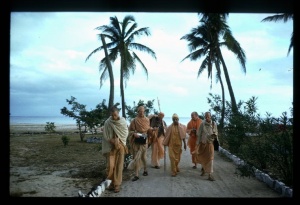 7th May, 1977
Hare Krishna Land,
Gandhi Gram Road,
Juhu, Bombay 400054
To: The Manager
Punjab National Bank,
Krishna Balaram Temple,
Bhaktivedanta Swami Marg,
Raman Reti, Vrindaban,
Dist. Mathura, U.P.
Re: Savings A/c #1 in the name of A.C. Bhaktivedanta Swami,
Dear Sir,
In regard to the above mentioned account, kindly transfer the sum of Rs. 1,30,000/- (Rupees One Lac Thirty Thousand only), to the A/c No. 4 in the name of International Society for Krishna Consciousness (Gurukula Construction), and advise. This transfer should be executed on the 15th May, 1977 . I am still awaiting reply to my letter to you dated 28th April, 1977, regarding your advise on how I am able to collect the two fixed deposits coming mature in the month of September, 1977, Receipt No. 1/76 for Rs. 2 ½ Lacs, which after their coming mature I want the amount transferred to Bombay. Kindly give me your advice in this matter.
Thanking you.
Yours faithfully,
A.C. Bhaktivedanta Swami
ACBS/tkg
c.c. His Holiness Akshayananda Swami,
President, Krishna Balaram Temple, Vrindaban