CC Madhya 20.113
From Vanisource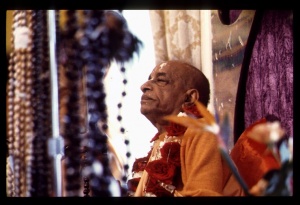 TEXT 113
śaktayaḥ sarva-bhāvānām
acintya-jñāna-gocarāḥ
yato 'to brahmaṇas tās tu
sargādyā bhāva-śaktayaḥ
bhavanti tapatāṁ śreṣṭha
pāvakasya yathoṣṇatā
SYNONYMS
śaktayaḥ—energies; sarva-bhāvānām—of all types of creation; acintya—inconceivable; jñāna-gocarāḥ—by the range of man's knowledge; yataḥ—from whom; ataḥ—therefore; brahmaṇaḥ—from the Absolute Truth; tāḥ—those; tu—but; sarga-ādyāḥ—bringing about creation, maintenance and annihilation; bhāva-śaktayaḥ—the creative energies; bhavanti—are; tapatām—of all the ascetics; śreṣṭha—O chief; pāvakasya—of fire; yathā—as; uṣṇatā—heat.
TRANSLATION
"'All the creative energies, which are inconceivable to a common man, exist in the Supreme Absolute Truth. These inconceivable energies act in the process of creation, maintenance and annihilation. O chief of the ascetics, just as there are two energies possessed by fire—namely heat and light—these inconceivable creative energies are the natural characteristics of the Absolute Truth.'
PURPORT
This is also a quotation from the Viṣṇu Purāṇa (1.3.2).