CC Madhya 20.281
From Vanisource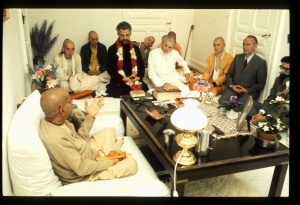 TEXT 281
yasyaika-niśvasita-kālam athāvalambya
jīvanti loma-vila-jā jagad-aṇḍa-nāthāḥ
viṣṇur mahān sa iha yasya kalā-viśeṣo
govindam ādi-puruṣaṁ tam ahaṁ bhajāmi
SYNONYMS
yasya—whose; eka—one; niśvasita—of breath; kālam—time; atha—thus; avalambya—taking shelter of; jīvanti—live; loma-vila-jāḥ—grown from the hair holes; jagat-aṇḍa-nāthāḥ—the masters of the universes (the Brahmās); viṣṇuḥ mahān—the Supreme Lord Mahā-Viṣṇu; saḥ—that; iha—here; yasya—whose; kalā-viśeṣaḥ—particular plenary portion or expansion; govindam—Lord Govinda; ādi-puruṣam—the original person; tam—Him; aham—I; bhajāmi—worship.
TRANSLATION
"'The Brahmās and other lords of the mundane worlds appear from the pores of Mahā-Viṣṇu and remain alive for the duration of His one exhalation. I adore the primeval Lord, Govinda, of whom Mahā-Viṣṇu is a portion of a plenary portion.'
PURPORT
This is a quotation from the Brahma-saṁhitā (BS 5.38). For an explanation, refer to Adi-līlā, Chapter Five, verse 71.