SB 1.17.7
From Vanisource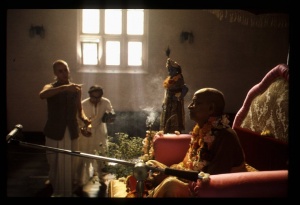 TEXT 7
tvaṁ vā mṛṇāla-dhavalaḥ
pādair nyūnaḥ padā caran
vṛṣa-rūpeṇa kiṁ kaścid
devo naḥ parikhedayan
SYNONYMS
tvam—you; vā—either; mṛṇāla-dhavalaḥ—as white as a lotus; pādaiḥ—of three legs; nyūnaḥ—being deprived; padā—on one leg; caran—moving; vṛṣa—bull; rūpeṇa—in the form of; kim—whether; kaścit—someone; devaḥ—demigod; naḥ—us; parikhedayan—causing grief.
TRANSLATION
Then he [Mahārāja Parīkṣit] asked the bull: Oh, who are you? Are you a bull as white as a white lotus, or are you a demigod? You have lost three of your legs and are moving on only one. Are you some demigod causing us grief in the form of a bull?
PURPORT
At least up to the time of Mahārāja Parīkṣit, no one could imagine the wretched conditions of the cow and the bull. Mahārāja Parīkṣit, therefore, was astonished to see such a horrible scene. He inquired whether the bull was not a demigod assuming such a wretched condition to indicate the future of the cow and the bull.