SB 10.57.35-36
From Vanisource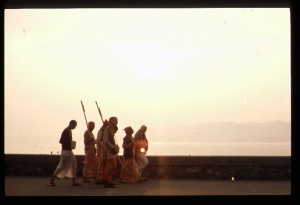 Please note: The synonyms, translation and purport of this verse were composed by disciples of Śrīla Prabhupāda
TEXTS 35-36
pūjayitvābhibhāṣyainaṁ
kathayitvā priyāḥ kathāḥ
vijñātākhila-citta jñaḥ
smayamāna uvāca ha
nanu dāna-pate nyastas
tvayy āste śatadhanvanā
syamantako maniḥ śrīmān
viditaḥ pūrvam eva naḥ
SYNONYMS
pūjayitvā—honoring; abhibhāṣya—greeting; enam—him (Akrūra); kathayitvā—discussing; priyāḥ—pleasant; kathāḥ—topics; vijñāta—fully aware; akhila—of everything; citta—(Akrūra's) heart; jñaḥ—knowing; smayamānaḥ—smiling; uvāca ha—He said; nanu—surely; dāna—of charity; pate—O master; nyastaḥ—kept; tvayi—in your care; āste—is present; śrī-mān—opulent; viditaḥ—known; pūrvam—beforehand; eva—indeed; naḥ—by Us.
Translation and purport composed by disciples of Śrīla Prabhupāda
---
TRANSLATION
Lord Kṛṣṇa honored Akrūra, greeted him confidentially and spoke pleasant words with him. Then the Lord, who was fully aware of Akrūra's heart by virtue of His being the knower of everything, smiled and addressed him: "O master of charity, surely the opulent Syamantaka jewel was left in your care by Śatadhanvā and is still with you. Indeed, We have known this all along.
PURPORT
Lord Kṛṣṇa's treatment of Akrūra here confirms that he is actually a great devotee of the Lord.